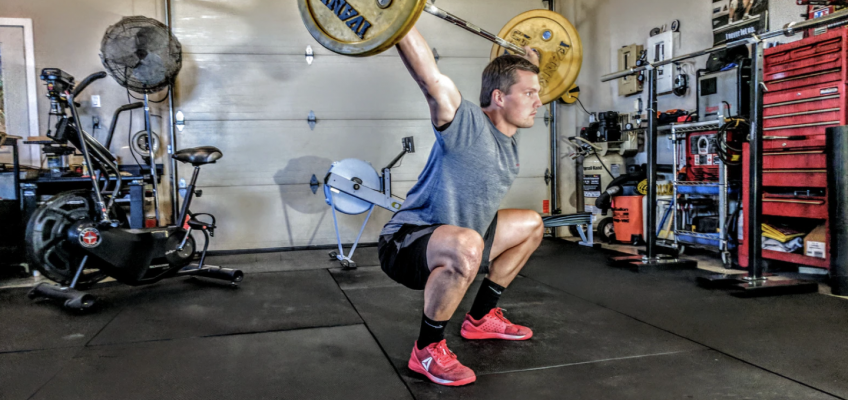 Converting Your Garage Into A Gym
04/06/2020
It is not easy to stay in shape anymore! Many of us are trying to isolate ourselves as much as possible to prevent the spread of COVID-19. With gyms being closed, how are we supposed to stay in shape? In addition to our own work we have to accomplish, some now have the added responsibilities of helping the kids with their schoolwork and feeding them lunch. In spite of the challenges and uncertainties we are facing, we can make time to work out. Doing so can give us a much-needed reprieve from the chaotic times in which we live.
If you have extra garage space, an in-home gym could be the perfect option for you. Having an in-home gym saves you time and money. Not only will you avoid a monthly gym membership fee, but you will also save time by not driving to and from the gym because it's part of your garage.
According to Healthline, exercise physiologist Tom Holland said, "In-home gyms are all the rage for home buyers… Many Americans are creating home gyms, or using streaming technology to exercise under their own roofs."
How to Turn Your Garage Into a Gym
Turning your garage into a gym can seem like an impossible task, but by following these steps we can help make your garage-to-gym transformation a whole lot easier.
Step 1: Declutter and Organize
The first thing you will want to do is clear your garage floor to make room for any exercise equipment and machines. Take everything you own in the garage and put it in the driveway. Decide what you want to keep, what needs to be donated, and what can be thrown out. Once you have your items separated into these three categories, you can clean your garage.
In order to have an efficient garage where you can actually find the things you need, here is a small list of different types of zones:
Holiday Decorations
Automotive (oil, windshield wiper fluid, antifreeze, etc.)
Sports Equipment
Tools
Garden
Paint/Home Projects
Organize your belongings into these different zones before placing them back into your garage. Once your items are separated into these zones, you can purchase different garage organizing systems to keep your items off the floor.
Step 2: Garage Storage Solutions
Store your items into different garage storage solutions such as cabinets, shelves, overhead racks, slatwall and gear bags. These garage storage solutions can maximize floor space and storage. Cabinets can store workout supplies such as jump ropes, extra protein powder, towels, disinfectant spray, wrist wraps, KT tape, and whatever else you can think of! Cabinet shelves hold up to 100 lbs and can store light dumbbells.
Shelves provide storage for workout equipment such as aerobic steppers or plyo boxes. Shelving bars and hooks can hang exercise equipment such as resistance bands.
Overhead racks will keep infrequent or seasonal items stored up high. A slatwall system utilizes the garage's vertical space for storing items such as yard tools. Gear bags are great for ab rollers, yoga mats and boxing gloves.
A cold concrete floor may not be your preferred gym flooring. Garage floor tiles can withstand up to 75,000 lbs of rollover weight. This is a perfect solution for maintaining any heavy gym equipment. Modular floor tiles protect the garage floor and weights if you drop them.
Floor coatings protect your floor from stains and provides a facelift to your garage's appearance. Because of the flooring's chemical and scratch-resistant properties, cleaning and maintaining your garage floor will be easier than ever. The floor coatings we provide are UV stable, meaning the color of your floor won't fade or yellow in the sunlight. A simple floor or yoga mat on either type of flooring will be sure to do the trick!
Step 3: Gym Equipment and Machines
Purchase gym equipment and machines you know you already use when going to the gym. Make sure you have equipment for cardio and strength training. Cardio equipment can include a treadmill, elliptical or exercise bike. Strength training could be a variety of different machines or free weights. A wall-mounted pull-up bar or punching bag can easily be hung in the garage. Dumbbells, kettlebells and barbells can provide a variety of different strength outcomes. They also offer many benefits for cardiorespiratory fitness and flexibility.
A multi-gym set can also be a good option for strength training. A multi-gym set is a single station machine that can be used as a smith machine, power rack, and cable machine all in one. You can work out all of your muscles with one convenient machine. Real Homes provided a list of their top multi-gym machines, check them out here.
From running to and from work, helping the kids, and everything else in your busy schedule, this garage-to-gym transformation will leave you with no more excuses about not having enough time to work out. You will save time and money from a gym membership and be able to work out in the comfort of your home. How are you going to convert your garage into a gym?