Premium Slatwall Storage Systems
Contact Your Dealer

Floor To Ceiling Solutions
Garage slatwall is an attractive and protective way of increasing the storage capacity of your garage. The panels are impervious to mold, mildew, and water while acting as a protective barrier for your garage walls. The solid color extrusion process easily hides scratches and dings that would be noticed with a painted slatwall option. Gorgeous Garage slatwall also has a solid core construction so that it can hold up to 100 lbs per square foot. Nine different color selections makes for seamless color coordination with your
cabinets
,
shelving
, or
floor coatings
. Two-tone options are easy to create and provide a custom theme to your garage. Contact your local dealer to get started on your design.
Features & Benefits
Unmatched Strength

Our panels hold 100lbs per square foot

Nine Color Options

Available in Grey, Black, Graphite, Desert Stone, Maple, Race Day Red, Sonic Yellow, Cobalt Blue and White

Locking Hooks

Hooks attach securely with our locking button

Professional Install

Authorized dealers install around plugs, switches, and sprinkler boxes

Get a Free Estimate

When to Use Slatwall & Why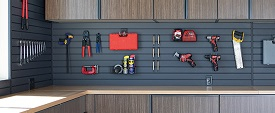 over workbenches
Store hand tools and anything else to complete your next project on our garage slatwall.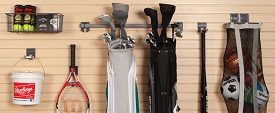 stores almost anything
Sports Bags, Wire Baskets, Adjustable Shelves, or Monkey Bars can hold almost anything.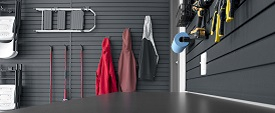 as a wall covering
Slatwall panels can act as an attractive wall covering over drywall or directly over studs.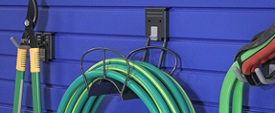 creates floor space
Storing everything on the walls opens up valuable floor space for increased mobility