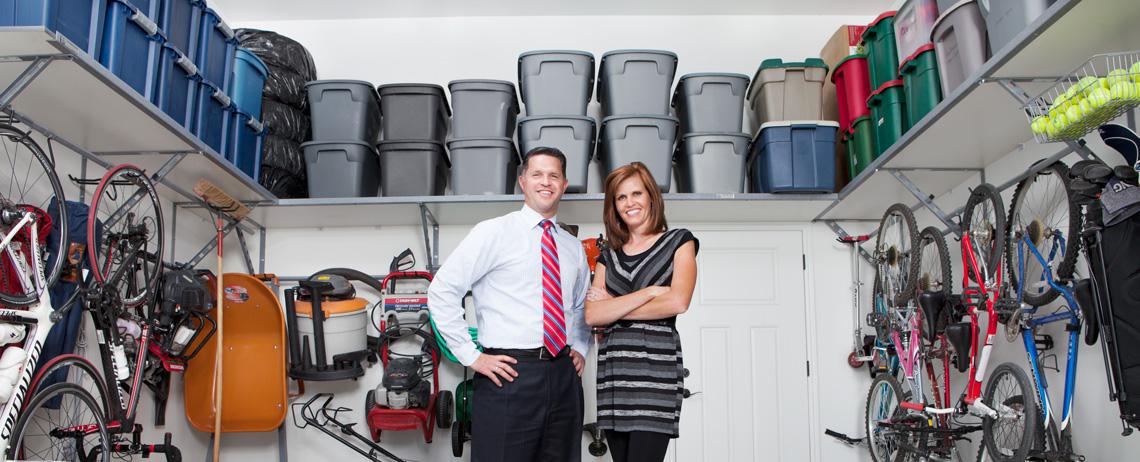 Limited Lifetime Warranty
Quality System. Quality Warranty
We strive to offer your the best of everything, including protection.
Check out the details of our limited lifetime warranty below.
important notice: warranty activation via www.monkeybarstorage.com is required to put warranty in force. Read this entire Limited Warranty before using this product. By purchasing, installing, or using this product, you are acknowledging that this Limited Warranty is part of the sale terms.
covered products. This Limited Warranty applies to the following Gorgeous Garage products: (1) shelves, (2) brackets, and (3) hardware (i.e. nuts, bolts, and hooks) (hereinafter referred to as the "Covered Products"). Gorgeous Garage makes the following express limited warranties for the Covered Products purchased and installed within the United States and Canada, subject to the conditions and limitations stated below. These limited warranties are the exclusive warranties for the Covered Products. Gorgeous Garage disclaims all warranties, express or implied, for other products.
limited warranties. Gorgeous Garage warrants to the Buyer that the Covered Products shall be free of manufacturing defects in material or workmanship that significantly impair their proper use or function. Gorgeous Garage extends these limited warranties to the original buyer of the Covered Products (the "Buyer"). Gorgeous Garage disclaims all warranties, express or implied, to subsequent purchasers or users. If the Buyer gives Gorgeous Garage notice as required below of a defect in materials or workmanship, Gorgeous Garage shall, at its sole option: (1) repair or replace the defective products; or (2) refund the original purchase price. Gorgeous Garage shall pay all associated labor costs for repairs or replacements if Buyer gives proper notice as required below within two (2) years of purchase. Gorgeous Garage may, in its sole discretion, pay some or all of the labor costs for repairs or replacement for claims made after two (2) years from purchase. Replacement products may not exactly match replaced products.
failure to comply with the installation instructions voids all warranties unless the buyer establishes that the defective condition is not related to such noncompliance. This Limited Warranty does not extend to the use of the Covered Products under abnormal conditions, conditions that exceed the stated performance parameters of the products as provided on the product labeling and in the manual or instructions provided with the Covered Products, or under conditions not reasonably foreseeable to, or beyond the control of, Gorgeous Garage. Buyer assumes all risk of any such use.
what this limited warranty does not cover. Gorgeous Garage is not responsible for and makes no warranties as to the following: 1) product failures or damage due to normal wear and tear, exposure to excessive heat or moisture, corrosive chemicals or substances, improper installation, defects or conditions of the existing structure, misuse, abuse, modifications, and alterations; and 2) minor imperfections that do not affect the Covered Product's structural integrity or use.
disclaimer of implied warranties. Neither Gorgeous Garage, nor its authorized dealers, make any other warranties, express or implied, including any implied warranties of merchantability or fitness for a particular purpose. In the event this disclaimer is deemed limited or ineffective, the terms and limitations of any implied warranties shall be the same as the express limited warranties contained herein.
limitation of liability. This Limited Warranty sets forth Gorgeous Garage's maximum liability for Covered Products. in no event shall gorgeous garage or its authorized dealers be liable for any incidental, consequential, or special damages resulting from the sale, installation, or use of any covered products. Some states do not allow the exclusion or limitation of incidental or consequential damages, so the above limitation may not apply to you. If Gorgeous Garage provides any of the remedies identified above (i.e. repair, replace, or return of the original purchase price), then Buyer agrees that this limitation of remedy shall not have failed the essential purpose of the Limited Warranty.
notice of claim. Buyer shall promptly notify Gorgeous Garage of any claim under this Limited Warranty. Gorgeous Garage reserves the right to deny any claims made by the Buyer more than one (1) year after any defect or other basis of a claim covered by this Limited Warranty is discovered by the Buyer or should have been discovered by the Buyer.
claim procedure. You should make claims under this Limited Warranty in writing to Gorgeous Garage at 343 E. 4th N. Ste 245 Rexburg, ID 83440 or by calling Gorgeous Garage at 208-356-8820. Claims to Gorgeous Garage should include the following information: (1) the claimant's name, address, and telephone number; (2) the installation address; (3) the product description, purchase price, and the date and location of purchase; (4) copy of the sales invoice or receipt; (5) a description of your product concerns (you may include photos); and (6) a brief summary of the attempts you made to address the concerns. Gorgeous Garage reserves the right to charge a fee for on-site product inspections.
entire agreement. This Limited Warranty, and all of the terms and limitations contained herein, constitutes the entire agreement between Gorgeous Garage and the Buyer. By purchasing, installing, or using the Covered Products, Buyer is not relying on any oral statements made by anyone, including its authorized dealers, which are in any way different or contrary to the terms and limitations of this Limited Warranty. By purchasing, installing, or using any of the Covered Products, Buyer acknowledges that authorized dealerships are not agents of Gorgeous Garage and any statements or representations made by authorized dealerships and their employees are not attributable to Gorgeous Garage.