Garage Cabinets For Your Life
Contact Your Dealer

Out Of Sight. Out Of Mind.
Our garage cabinets are an ideal solution for getting your items out of sight and free from dust. With everything behind closed doors, your garage will have the clean, finished look you've always wanted. Our garage cabinet systems come in several modern colors that provide a polished look to any garage. Gorgeous Garage uses the strongest materials to construct their cabinets to ensure that the shelves never bow and that the cabinets will last for years to come. Gorgeous Garage cabinet systems fit your needs, space, and budget. Combine our garage cabinets with our
garage shelving
to create a custom storage system.
Features & Benefits
Warranty

7 Year or Lifetime Warranty

No Bow

1" shelves guaranteed against bowing

Clean Floors

Optional legless design makes floor cleaning easier

Professional Install

Authorized dealers to ensure the best solutions

Get a Free Estimate

Garage Cabinet Systems to Look Forward To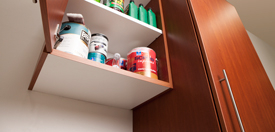 out of reach
Storing paint, motor oil, and other chemicals in garage cabinets keeps these substances out of the reach of children and pets.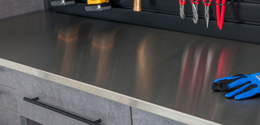 durable countertops
Choose from Solid Maple Butcher Block, Faux Butcher Block, Graphite Black & Stainless Steel.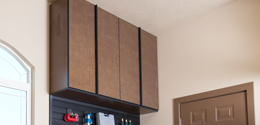 out of sight
With everything in your garage cabinets, you will be left with a clean and modern look in your garage.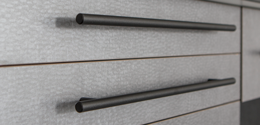 modern handles
Three colors to match any garage cabinet: Brushed Steel, Powder Coated Black, & Oil Rubbed Bronze.