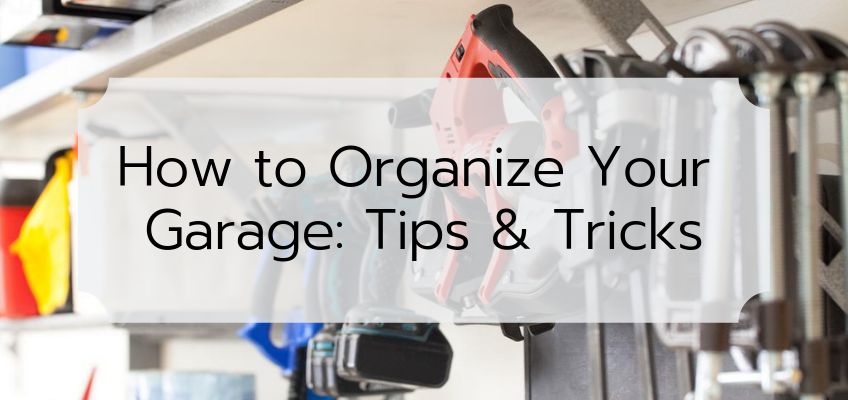 How to Organize Your Garage: Tips & Tricks
10/12/2018
Whenever you think about organizing your garage, you probably begin to develop some anxiety and never want to think about it again. Luckily, we have some great tips and tricks for you to make that task just a little easier!
These amazing new tips will not only give you a peace of mind when thinking about your garage, but will also give your garage the makeover it has been desperately asking for.
Remove And Clean
The very first thing you are going to want to do when faced with a garage full of tools, nick nacks, and your old baseball cards, is to take everything out. And I mean everything! Even if you think you have a clean garage, there might be a chance that multiple items do not need to be in there. Use this helpful checklist after removing everything from your garage:
Take a full inventory of everything you have
Weed out anything that is unused, expired, unrepairable, or even unsafe
Put everything into separate piles
Wash your walls, sweep the floors and if needed, reseal your garage floor
Organize Into Zones
The best thing to do after you have cleaned your garage and organized everything into separate piles is to create separate zones. Whenever you walk into a store and want to buy milk, you walk straight to the dairy section to find it. It would be so frustrating if grocery stores put their milk section in the middle of an isle next to the pretzels and chips. The same goes for your garage.
In order to have an efficient garage where you can actually find the things you need, here is a small list of different types of zones:
Holiday Decorations
Automotive (oil, windshield wiper fluid, antifreeze, ect.)
Sports Equipment
Tools
Garden
Paint/Home Projects
Purchase Organizers
There are hundreds of different types of garage organizers out there. The key to finding one that will last for years is the hard part. You do not want to buy cheap organizers because they will only last you for a few years at the most. The best route to take is to find something that can withstand a lot of weight and that will not warp or crack when exposed to heat and cold weather.
Now that you have chosen the brand or type of material you want for your garage, you will need to choose what kind of organizer you want. These are a few of the best garage organizers that will serve your every need:
Cabinets
Overhead Racks
Shelves
Slat Wall
After you have completed all of these steps, your only job will be making sure that everything stays organized. It can be very difficult to keep everything looking organized and clean, but it is not impossible. Good luck!
Photo Credit