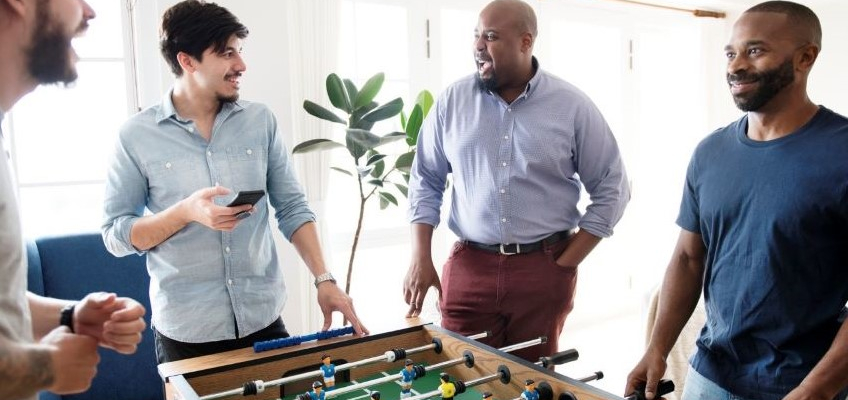 Building a Garage Mancave 101
05/21/2020
What is your version of the perfect mancave?
For me, I always see the same image. It's a fairly large room, the size of a bedroom or bigger. It's in a quiet part of the house, with some large windows to let in light when I want it, but they have big curtains to block out the light when I'm watching something. The interior is cool and relaxing, and the hardwood floors make it easy to clean.
A large sectional centers the room and serves two purposes: large enough to fit a couple buddies and comfortable enough to crash on when I want a nap. I also have a nice ottoman in front of the sofa so I could kick my feet up if I want.
The couch faces a large TV screen mounted on the wall. With a surround sound system, I can watch movies or the game in complete immersion. On another wall is a mounted countertop with a mini-fridge next to it. A couple of bar stools stand there to seat people eating wings or something else messy. Finally, I have a ping-pong in a little space behind the couch.
That's it...my perfect man cave. Sometimes, it can be tough to try to find a place within our homes that is both large enough to accommodate our plans, and has some separation from the rest of the home. A garage can do the trick
Getting the man cave started can be the most daunting task. Here are some tips to help.
Clean out the Clutter
I'm willing to bet your garage is full of stuff. A man cave can't reach its full potential when it's full of junk, so you'll need to clear it out. Start bit by bit, and decide what you need to keep and what can be thrown out or donated. Whatever clutter you can clean out means more space for you.
Consider how to store essential or seasonal items without taking up too much space. Storage systems will be your best friend, whether in the attic, basement, shed or elsewhere in the garage. Try utilizing ceiling racks or shelves for storage so the floor is more open.
Modernize the Interior
Having space in a garage is great, but it won't be a man cave without feeling like one. You'll want to do a little refreshing. Start with painting the walls and refinishing the floor.
When painting the garage, think about the environment you want to maintain. Different colors can have different effects on your mood, and you'll want an atmosphere that matches your intent. Warmer colors, like reds and oranges, can encourage excitement and energy, which is great for viewing sports. Cooler colors, like light blues or greens, are calming, and work great for playing games or just hanging out.
As for flooring, think about what you'll be doing inside your space before making a decision. Carpet is great for a more casual, comfortable feel, but might not be the best option for a man cave. If you'll be drinking or eating messy man-foods, it might be a better idea to go with something easier to clean. Hardwood or a floor coating can make the floor look great while still being durable. If you plan to keep your garage multifunctional or for parking a car, a floor coating will last longer than hardwood.
Finally, you may want to consider some additional features, such as a climate control system if your garage doesn't have one. Visually, new lighting features and blackout curtains on windows can help you have more control over the brightness of your space. For audio, you can add soundproofing to the walls or a surround sound system for a better theater experience.
Adding furniture
When adding furniture, you need to get creative. Consider using a theme, like your favorite sports team, band or car company to decorate. Websites like Wayfair have a large variety of decorations that can match your motif.
If you're like me, a large sofa is essential. If you don't have that much room, you could substitute it for gaming chairs, benches or barstools.
Consider including a TV or projector, even if you don't have the budget for a nice one. Your man cave can double as a small theater room to watch movies, ball games or play video games.
Other options for interior features include a billiards table, table tennis, dartboard, minibar, poker table and more. Don't forget to dedicate an area to a table or counter for food and drinks.
Relax
The most important thing to remember when creating your man cave is to stick to your personality. While all of us want the best of the best, decide what's most important then choose which options work for you and your budget. At the end of the day, the space is for you and your buds to hang out. So relax and have fun with it.