Overhead Storage That Works
Contact Your Dealer

Up and Out of the Way
Overhead garage storage systems are an ideal solution for getting your things off of the floor and out of sight. Our patented open corner and T-brace design offers a superior garage ceiling storage experience. The open corners allow you to move things on and off the rack with ease while the T-brace and multi-truss mounting system ensure that the rack won't swing or sway. With everything neatly stored overhead, your garage will achieve the clean, finished look you've always wanted. Gorgeous Garage overhead storage systems fit your needs, space, and budget.
Features & Benefits
Unmatched Warranty

Our racks are backed by a lifetime warranty

Color Options

Racks available in Granite Grey, Desert Stone, and White

Customizable

Racks can be combined for greater storage capacity

Professional Install

Installed by our authorized dealers to ensure the best overhead garage storage solution

Get a Free Estimate

When to Use Overhead & Why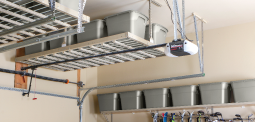 over garage doors
Place your storage items in all of that unused space on your ceiling or over your garage doors.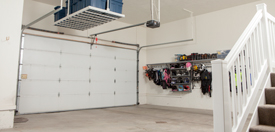 creates floor space
Overhead garage storage racks will get all of your things off of the floor, so you can park your car inside.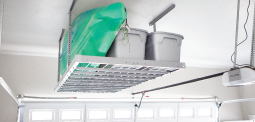 out of sight
When you use our garage ceiling storage racks, your belongings will be out of sight.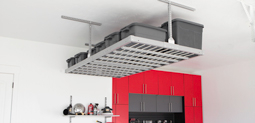 out of reach
With everything up high, there's no need to worry about the safety of your kids and pets.