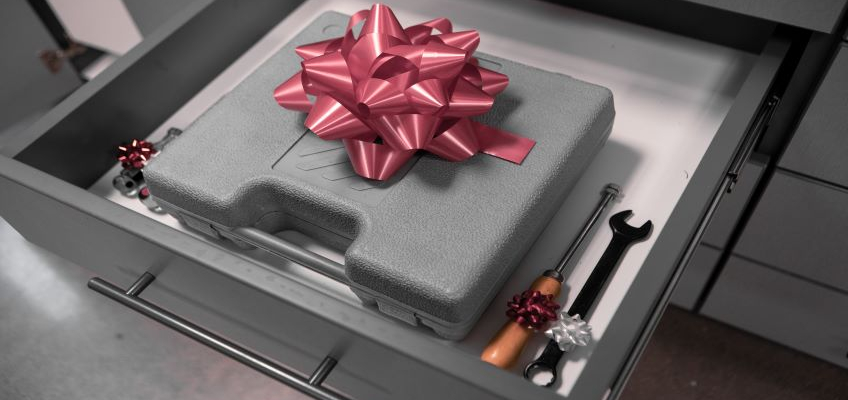 The 12 Days of Storage
12/16/2019
Deck the halls with shelves and cabinets
Fa-la-la-la-la, la-la-la-la
Save your home from cluttered drabness.
Fa-la-la-la-la, la-la-la-la
Don you now a brand-new floor coat
Fa-la-la. la-la-la, la-la-la
Call us today for a free quote
Fa-la-la-la-la, la-la-la-la
It's that wonderful time of the year again, and many of us are now sitting and wondering what to gift our friends and family. If you're like me, you probably spend time endlessly wandering through Target or scrolling through Amazon pages, trying to find something perfect for those you love…without any success or direction.
Maybe you're looking to get something for your husband, but you've been married for 22 years and you've been cycling through the same gift ideas for the past six. Or perhaps you're trying to find something for your two loving parents, who don't ask for anything new and seem to have everything.
Well, my friends, allow me to help you out.
We present "The 12 Days of Storage!" (A production by Gorgeous Garage).
On the First Day of Storage: Ball Bags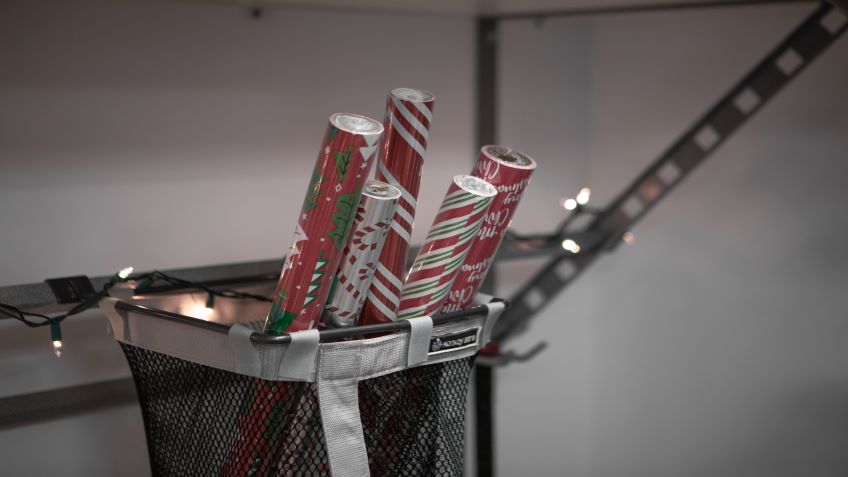 If you have kids, you probably have a variety of sports gear laying around no matter the season. Balls are tough to keep contained, and if you've ever tripped over a soccer ball before, you know it's an experience you'd rather not repeat Unfortunately, they easily roll off shelves and don't typically fit well in boxes. Unless you want to devote precious closet space to house them, you might find yourself with some pesky tripping hazards.
Enter Ball Bags. This medium-sized gift idea won't break the bank and it solves a very real problem for parents. A great feature of this gift is that it is highly versatile. You can use a ball bag by itself or incorporate it into a larger garage system. Gorgeous Garage offers bags that can hang right on the Monkey Bar shelves. This is a great start to organization project.
On the Second Day of Storage: Workbench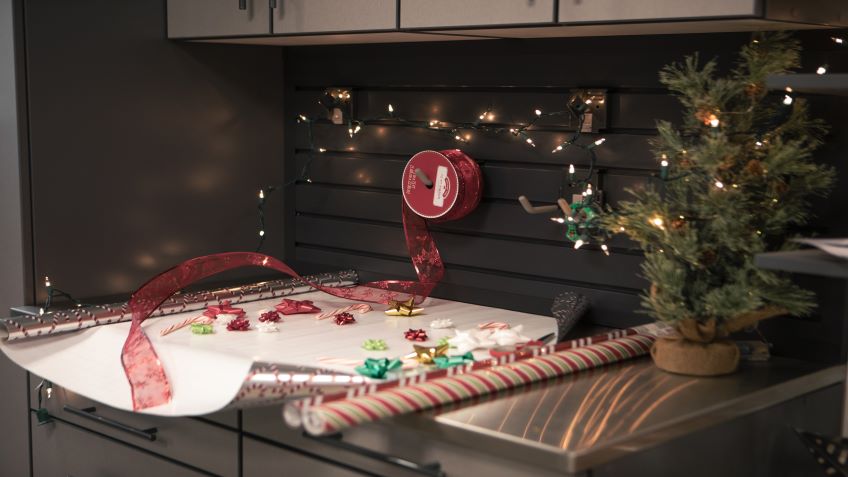 A workbench is a staple of a functional garage. Whether you like to work on your car, are busy with DIY projects around the house, or just like having a space for crafts, a garage workbench is essential.
Some workbenches can be simple and handmade. You can even repurpose an old table to do the job. But a genuine, heavy-duty workbench provides legitimate functionality and adds value to your space. A Gorgeous Garage workbench with a stainless-steel surface gives you the durability and style you want. They are also customized for each homeowner and can be put on wheels to maneuver around your garage as you see fit. Say goodbye to being chained to the wall!
On the Third Day of Storage: Wire Basket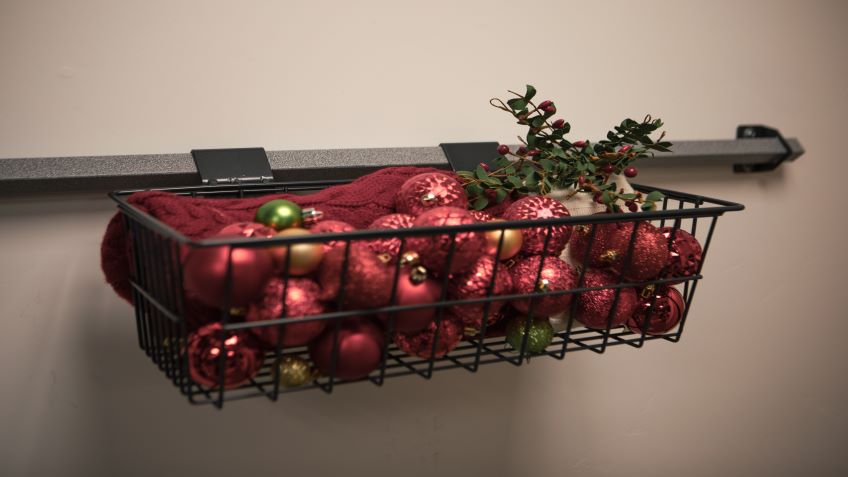 Similar to the ball bag, a wire basket helps keep small odds and ends out of the way. Things like small tools, tennis balls, or gloves are perfect to store in these small containers. The biggest difference between this basket and larger containers is accessibility. For common items, you can use this basket to just grab and go. Gorgeous Garage's wire baskets hang on shelving units, and add a nice visual touch to a garage.
On the Fourth Day of Storage: Shelving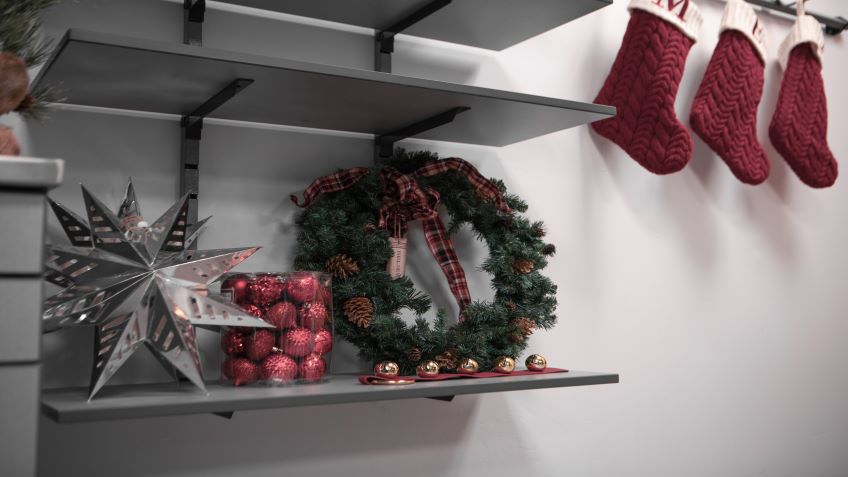 One of the most commonly reported problems with a garage is clutter and a lack of organization. Having a disorganized garage is harmful or even dangerous in a number of ways. It not only limits the space you have to use in your garage, but it can increase the risk of damaging or losing items, and it can be a safety concern to pets or your family.
Shelving is the easiest and most popular way to fight clutter. Shelves are a staple of a functional garage. No matter the size or layout of your space, shelving adds storage options and maximizes available space. While some homeowners choose several rows of shelving, having at least one set can help you get your garage organized. The Monkey Bar Storage shelving system from Gorgeous Garage can hold up to 1,000 lbs per four feet and range from 1 to 2.5 feet in width. They also have bars and hooks underneath them to hang awkwardly-shaped or frequently-used items in layers.
With Christmas here, shelving makes a fantastic gift. Help someone take back total control of their garage.
On the Fifth Day of Storage: Space Heater
If you live in a colder climate, you know that few things are as demotivating as having to spend time in a freezing garage. Doing things like working on a car or working on projects seem impossible with numb fingers. Add a heater to the mix and you're back in business! With this upgrade, you can keep warm and work on your favorite projects year-round.
Space heaters come in a variety of shapes, sizes and types. Some are designed for small rooms, and other are large and made for industrial spaces. Finding the right one for your space and budget can be tough, but the venture is worth it if you or someone you love spends time in the cold. Car Bibles has a great guide for finding heaters that work for you.
On the Sixth Day of Storage: Flooring
Upgrading the garage floor will arguably make the most noticeable impact on any garage. While most homes sport the same gray concrete, adding a splash of color instantly catches the eye.
Floor coatings also add functionality. Both polyurea floor coatings and floor tiles protect the concrete foundation, and are easier to keep clean. They can also add more grip if you are concerned with slipping.
On the Seventh Day of Storage: Cabinets
Most of the time, a garage doesn't look like a true extension of the rest of your home. It's a space you don't "live" in like you do other spaces in the home, like kitchens or living rooms. As a result, it's easily overlooked on the design front. Cabinets are a great Christmas gift to give the garage the design lift it sometimes needs. Not only is it an effective storage solution but it gives a more "homey" feeling to your garage. Gorgeous Garage Cabinets come in all different sizes, shapes and colors.
Classic Series Cabinets are a budget option if you're searching for a cabinet that is strong and gives a sleek modern look. If you're looking for larger cabinets that hold more weight, Signature Series Cabinets would be the best option for you.
On the Eighth Day of Storage: Hooks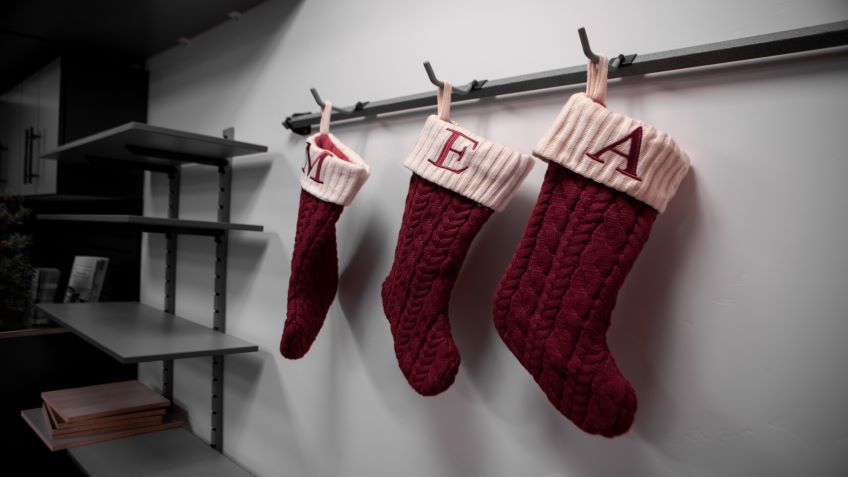 You probably know someone who's using the floor or the corner of their garage as a temporary storage solution for bigger items. You dodge the leaning towers sports gear or yard tools just to make sure that nothing is going to fall or break. This is why hooks are an essential tool for a garage storage system.
Imagine bicycles, golf bags, baby strollers, camping equipment and ball bags hanging from the wall and not covering the floor of the garage! Not only will your friend be able to get around the garage, they're also going to be able to utilize its full potential. Hooks are truly a Christmas miracle!
On the Ninth Day of Storage: Slatwall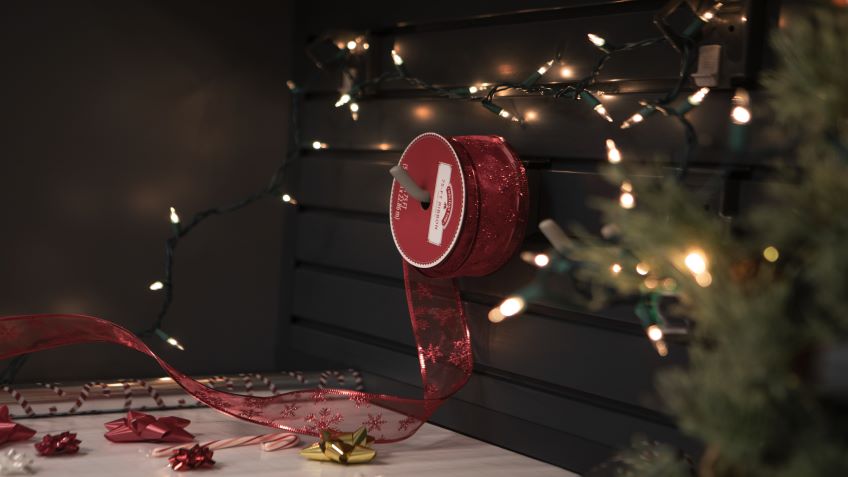 Slatwall is a great feature that adds an extra creative touch in a garage. Add a touch of personality to your storage and choose from a variety of colors to create a wall that fits your design aesthetic.
On the Tenth Day of Storage: Bucket Holder
Simple gifts can make the biggest difference. A great example of that would be a bucket holder. This gift helps organize containers that are filled with baseballs, pet supplies or any other items in a convenient and organized way. This is an effective and price efficient garage storage system.
On the Eleventh Day of Storage: Power Washer
Keeping a garage floor clean isn't an easy task, especially if you have bare concrete. Dust, mud, oil and other things usually make their way in, and try their hardest to stay there. Oftentimes, using a broom just isn't enough to keep things tidy. Power washers are the way to go.
This article by Pressure Washer Critics gives a rundown of the best ways to clean your floor without causing too much trouble and keeping the process safe. Just be careful to keep the garage ventilated while using a power washer, as dust or fumes from the washer can be harmful.
On the Twelfth Day of Storage: Wet-Dry Vacuum
Best known as shop-vacs, wet-dry vacuums are one of the most versatile gifts you could get someone for household cleaning. Wet-dry vacs are special, because in addition to being able to clean debris and dust of various sizes, it can also vacuum up liquids. Shop vacs are great for a garage, but can also be a great asset for the rest of your home as well. Here are some suggestions for great wet-dry vacs.
Make this holiday season a memorable one by sharing some great ideas to improve someone's garage.