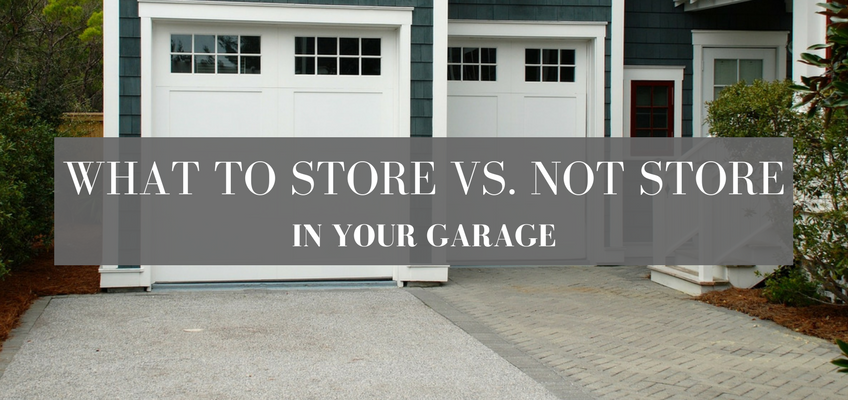 What to Store VS. Not Store in Your Garage
02/23/2018
One of the biggest parts of garage clutter stem from confusion between what should be stored in the garage and what should not be stored. There aren't any hard rules for this. However, it simply comes down to this: what is safe and what is not safe to store in the garage.
What Not to Keep in the Garage
Propane tanks or other hazardous materials. Items like these must be carefully and properly taken care of. Propane tanks are a fire hazard because they are highly combustible and could easily ignite (eg. when parking a car, using welding equipment, etc).


Photographs and important documents. Paper products deteriorate quicker than you think. When exposed to changing temperatures or any type of humidity, the paper will start to curl, stick together, and discolor. These items are best kept digitally.


Electronics. It is common to have a second fridge or freezer in the garage, but you may want to rethink this. If you live in an area of extreme heat or cold, the system tends to work overtime, increasing your power bill and shortening its lifetime.


Food. Dramatic changes in temperature will shorten the shelf life of your food, even for canned goods. If you choose to keep food storage in the garage, be aware of the expiration date and make sure it is not anything that will attract pests.
What to Keep in the Garage
Cars. This is essentially what your garage was made for. Cars are durable and can withstand the harsh outside elements. Protect your car by keeping it out of the street.


Yard tools. Again, tools like these don't need any special treatment. They don't have bias to temperature and they work exactly the same wherever they are kept.


Outdoor toys/entertainment. Things like bikes, balls, and camping gear are fine to be stored in the garage. As long as you tune/check them occasionally, they should work like they are supposed to.
Your garage is basically like an outdoor room. It likely has no heating or air. The temperatures are unstable as it is exposed quite frequently through the automatic door. It's not made to be a dumping ground for anything and everything. Consciously choose what you want kept in there. Choose items that are sturdy and weatherproof. Other things might be better kept in a basement or attic. Following these guidelines will not only keep your items safe, but it will keep your garage safe as well.
Photo Credit