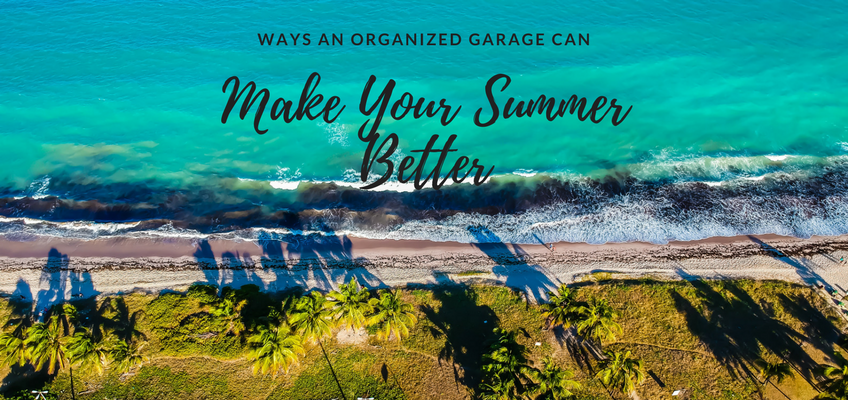 Ways An Organized Garage Can Make Your Summer Better
05/04/2018
We are a little more than a month away from June 20th, the official first day of summer. Odds are that you're not going to wait until then to kick off your summer activities, and the summer temperatures certainly are going to hit much sooner than that day. Out of the many things that you would like to focus on I'm sure living in and navigating through a disorganized garage isn't one of them. Here are a few reasons why having an organized garage will make your summer better.
Protects Your Vehicle - For most of us, summertime inspires a desire to get out and explore. Some will plan a distant vacation, some will do shorter road trips, and others will do quick day trips. With any of these options, you'll probably be using your vehicle.
We often hear how other seasons can damage our vehicles, but summer can have an effect on them as well. The heat can have a negative impact on batteries, affect the pressure in your tires, lower fuel economy, and cause our vehicles to use more oil and coolant.
With an organized garage, you can make room to keep your vehicle in a more temperature controlled environment. This can help to combat the risks heat brings and make travel a little more comfortable. It also solves the problem of trying to buckle a seatbelt without burning your hands, followed by an uncomfortable drive in a hot car.. Nobody wants to do that.
Creates Room For Activities - A well-organized garage is the perfect room in the summer. Many use garages to store their belongings and don't make room for much else. A good looking and organized garage can expand the opportunities the season has to offer. It will create a space in the shade that combines the benefits of being inside with the benefits of being outside. If this is done right, you'll begin to realize that a garage can be the most underutilized room in a home.
Allows Room For Objects - In the summer, I always tend to accumulate more outdoor items than I realize. It's during that time that I start to fill my garage. I end up adding things like bikes, kayaks, paddle boards, balls, and all sorts of outdoor games. I'm sure you feel the same.
Access to these items in the summer make the season significantly more enjoyable. If these objects are cluttered and thrown around, it's often easy to lose them or forget they are there. Having these items organized and accessible can inspire you to take full advantage of a nice summer's day.
Don't let a disorganized garage stop you from taking advantage of the season. Summer has so many activities and opportunities to offer. Taking a little time to ensure your garage is organized today will make the entire season more enjoyable.
Image by Thiago Japyassu. Creative Commons. Changes were made.