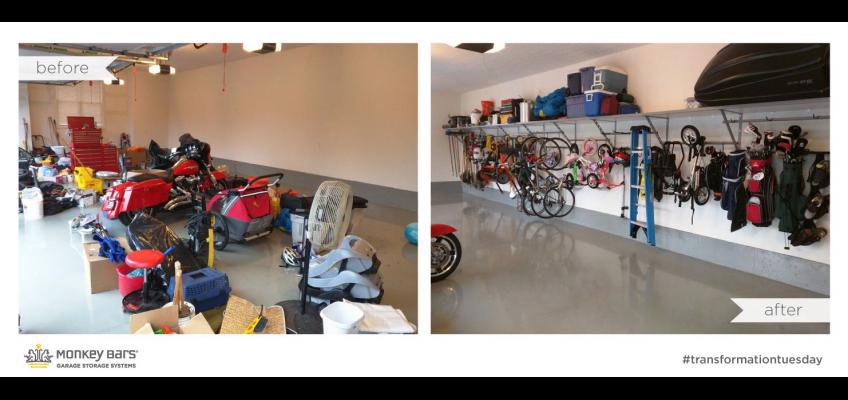 Transform Your Garage into Something You Are Proud Of
01/14/2016
Growing up I seemed to always get in trouble for leaving the garage wide open when I went out to play. It could have partially been because it made it easier for people to steal our stuff, but I always knew that wasn't ever the case. It was because they were embarrassed when all the neighbors could see all the junk and the mess that our garage was. Like a lot of houses out there, our garage was full of stuff we never really used but were afraid to get rid of, or didn't know what do with.
For the last decade, people have been celebrating the month of January as the National Get Organized Month. Stop being embarrassed with the way your garage looks and transform It into something you can be proud of. Having a clean and organized garage is definitely something that anyone could be proud of but getting to that point is never as easy as we want it to be. One of the best ways to get to our end transformation is by having a clear plan and vision of what we want our end results to be. Here are a couple of ideas that could help you turn your garage into something you can be proud of:
Transform Your Garage into a Sports Fan Garage

Not only is January the National Get Organized Month, it is also the month that a lot of you are preparing for the super bowl! Whether you create the ultimate man cave for you and your friends to watch the game come super bowl Sunday, or you deck out your garage with your favorite sports team's colors and logos, this is something you can be proud of.

Transform Your Garage into a Gym

For those of you that a lot of extra garage space, an in home gym could be the perfect option. It's the start of the new year and it's the perfect time to start working out again. Having an in home gym saves you time and money. Not only do you avoid those overpriced monthly fees, there is no time wasted driving to and from the gym because it's part of your house.

Transform Your Garage into the Ultimate Workshop

Like to work with your hands? Your garage is the best place in the house for the ultimate workshop. You don't need to go all out and take up the entire garage to have a nice workshop. Having it in your garage allows you to make more noise without bugging the rest of your family since the garage tends to be isolated from the rest of the house. It's also a great place to get your hands dirty!

Transform Your Garage into a Clutter Free, Junk Free Zone

For some of you an in home gym, or your ultimate workshop my not be realistic to have in your garage. That doesn't mean that it can't be a place that you can be proud of. Taking the step to get rid of all the junk you never use and making room for that car you have parked in the driveway can be very satisfying.
Now that you have a vision of what you want your garage to be, it's time to make a game plan and execute. Your garage is more than a place that you store your cars. It is more than a place that you store the things you use 1-2 times a year. It's time to transform your garage into something your proud of.