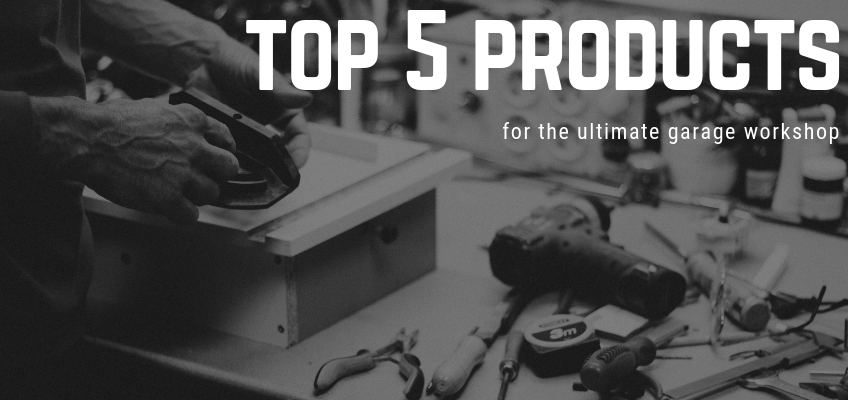 Top 5 Products for the Ultimate Garage Workshop
09/10/2018
Whoever said that the garage is only for vehicle storage didn't understand the potential of the space. Many homeowners across the country turn to the garage to work on a variety of projects. Whether you work on woodworking projects or the car, a properly equipped garage makes every project run smoothly.
Lighting

A typical garage has pretty poor lighting, think one light bulb for each bay of your garage. This just doesn't cut it when you're trying to see the little things you're working on. Upgrading to larger lights will change your life! These lights illuminate every corner of your garage, making it easier to see smaller aspects of your projects. If you work on vehicles in the garage and need a light you can move around, portable lights can be hung from the undercarriage of the vehicle or wherever else you may be working.

Temperature Control

Projects don't magically end when the weather grows colder and we all know how poorly insulated garage can be. A properly heated garage allows homeowners to continue working on a variety of projects in the garage throughout the winter months. It's important to avoid heaters that use propane if you have a smaller space or work with flammable materials in the garage. Wall mounted heaters are among the top recommended options for heating the garage, capable of heating most garages. Portable heaters are best used if you only need to heat a small area inside your garage, a workbench for example, while the wall mounted heaters can be used to heat large areas (if you work on vehicles or other large toys).

For those summer months, it can get pretty warm in the garage, even with the door open to tempt a breeze in. Most homeowners simply wait until things cool off in the evening to work on their projects, but we don't think you should bend to the will of the weather! A ceiling fan made just for your garage will help you cool off while you work during the light of day.

Upgraded Storage

1 in 4 Americans admit to their garage being so cluttered that they no longer park their vehicle inside the garage.We can only assume this means those same homeowners don't have space to work on projects in the garage either. Many homeowners simply don't have a storage plan in place to keep everything organized. A customized garage storage plan is key to creating a functional and organized workspace. Upgraded storage solutions provide maintainable organization for years to come. Through the use of underutilized spaces like the garage walls or ceiling, it's possible to store more in your garage than you thought possible!

Vacuum

This tool is especially useful to anyone working on woodworking projects in the garage. A central vacuum for the garage makes clean-up so much easier, so it will actually get done. Many homeowners resort to sweeping dirt, dust and debris out of the garage with a large broom or pressure washer, but that option is labor-intensive. With a centralized vacuum, all you have to do it plug in the hose and you can easily vacuum up anything you want to leave you with a clean garage!

Durable Flooring

No matter what you do in your garage, durable flooring will see you through it all. Choose a garage floor option that will stand the test of time, through spills, scratches, exposure to UV rays and large weight capacities. Many DIY floor options might look great at first, but a professionally installed floor will maintain beauty and durability for years. Any self-respecting garage craftsman knows that a beautiful and functional garage needs a floor that holds its own against a variety of projects.