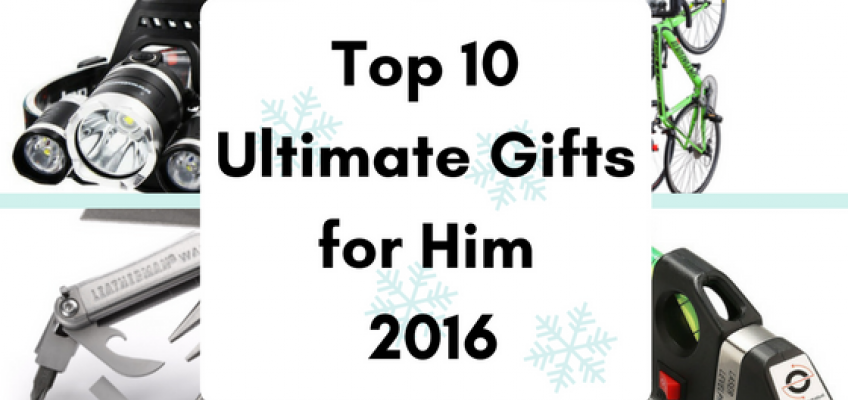 Top 10 Ultimate Gifts for Him in 2016
12/09/2016
Holiday 2016 is right around the corner and you may still need to finish shopping for your husband, or dad. Now, there's plenty of gifts out there you can give him, but we want to provide a list of gifts that will really make his holiday complete and make him yell, "It's a Christmas miracle!"
Ultimate Gifts
Dewalt 20V Cordless Compact Drill Driver Kit
Does he need a new power drill? This kit offers the essentials for a reliable drill that gets the job done. 1,500 rpm speed, lithium-ion rechargeable batteries, and its light weight makes it the perfect choice for the average DIYer. With a price of only $99, you get a great bang for your buck.
InnoGear 5000 Lumen Headlight Torch 3
Gear for a camper or special agent? The lines are blurred here. Either way, he will think this is the coolest thing he's worn on his head. A whopping 5000 lumen LED light makes this one of the brightest headlamps you can find. Waterproof, rechargeable batteries, 4 brightness modes, and safety lights makes this piece of equipment perfect for camping, hiking, or searching for something in the attic. Other headlamps dream to become half as good as this one. $30.
If he has any plans to do some cold weather camping this season, then this is the cooler he'll want. YETI coolers are special because they are insulated to withstand extreme weather and keep the storage inside to a controlled temperature for prolonged periods of time. It has a 35.5 liter capacity, can handle dry ice, it's bear-resistant, and has unmatched durability. $350 for the strongest cooler he'll get.
The Atlas Power Rack is an awesome gift for starting a home gym. A stable, steel frame, and 800 pound capacity is everything a gym rat needs. It is a recommended power rack by Stronglifts.com, the official website of the popular beginner strength lifting program. Sure, the rack is incomplete without a barbell, weights, bench, and protective floor pad, but hey, whatever gets him to start lifting, right? With shipping it comes out to about $320, which is very affordable for what you get.
Swagman XC 2-Bike Hitch Mount Rack
An awesome item for those outdoor "together" activities with him. It's a hitch mount rack, so you will need to get your car fitted for that. The Swagman XC 2 is a standard 2-bike rack, but it's collapsible when bikes aren't being stored on it and the center arm folds down to allow access to the trunk. Really nice for driving out to more scenic bike trails. $134.93.
Monkey Bars 3-Bike Storage Rack
No vehicle rack is complete without a new garage bike rack. Holds 3 bikes, any size, with our signature Monkey Bar strength and durability. It's a 35 inch bar, so it takes up hardly any space compared to most bike storage options. $79.99
Vitamix Professional Series 500
Okay, forget everything I just listed and get this. Known as the "Ferrari of blenders", the Vitamix is not just a blender, it's a lifestyle. You can put just about anything in this blender and make it a liquid. Smoothies, juices, dips, hot soup (yes, it cooks it), dressings, batters, purees, dressings – it just doesn't stop what a Vitamix can make. Three pre-programmed blending options, speed control, and 64-ounce container. The package also comes with a cookbook. Hands down, the Vitamix is one of those gifts that keep on giving, like, every day. $479.99.
Stocking Stuffers
Leatherman New Wave Multi-Tool
More than your typical Swiss army knife. The Leatherman Multi-Tool is all stainless steel and includes three kinds of knives, pliers, scissors, bottle-opener and more. I have one of these and I find it handy for camping or everyday tasks. $89.85.
Occidental Leather 5520 5-in-1 Tool Holder
Conveniently keeps multiple tools on hand for doing home improvement projects around the house. Easily stores hammers, screwdrivers, small flashlights, pens, and pliers at your side. $40.75.
Qooltek Multipurpose Laser Level
It's an 8-foot tape measure, multi-angle level bubble, 6-inch ruler, and 3-mode laser level, all in one. The Qooltek Multipurpose Laser Level is definitely one of those "Why not?" kind of products. $12.98.