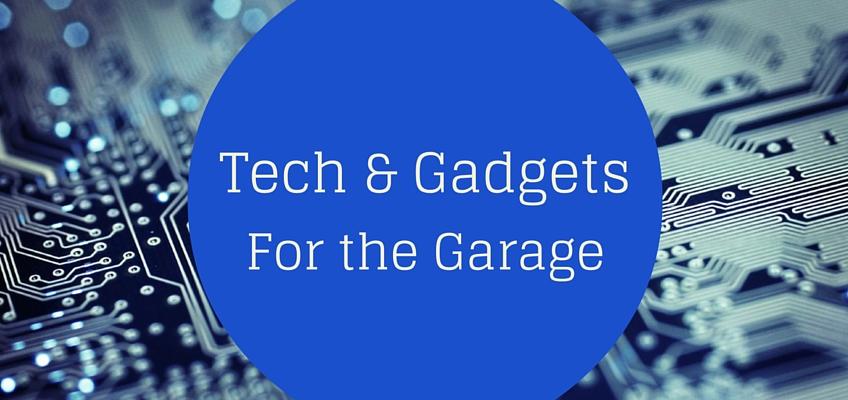 Tech and Gadgets For the Garage
04/08/2016
As technology advanced, the garage became a smarter place. Keep up with the advances and take a look at these gadgets that make the garage a more efficient space.
Chamberlain Garage Door Openers have revolutionized the garage game. The ¾ Belt Whisper Drive Garage Door Opener is extremely quiet and is controlled right from your smartphone or tablet. The Belt Whisper Drive even has a backup battery in case of a power outage.
Stop stressing about hitting walls and objects in your tight parking space. The Dual Garage Laser Park is an innovative device that helps you park your cars safely and accurately every time. When you enter the garage two visible lasers appear, allowing you to park both cars in the right place.
Is your garage humid and stuffy? Check out the Leviton Humidity Sensor and Fan Control.  The sensor detects excess humidity and automatically activates a fan to help decrease condensation levels. You can manage sensor sensitivity, humidity level and automatic timeouts to meet room-specific ventilation needs.
Swisstrax Modular Floor Tiles may not be electric, powered or digital like the other gadgets on this list, but the technology of the channels make the tiles dry out easily. With 75,000 lbs. of rollover strength, these tiles are durable and strong. They are also UV stable so they won't yellow and discolor over time. Contact your local Gorgeous Garage dealer to learn more about these innovative garage tiles
Stack's Alba Smart LED light bulbs use motion sensors to turn on and off when you enter and leave the room. These bulbs also automatically change from a hard white to a softer white color, depending on the light in the rest of the room.
The Bissell Garage Pro Wet/ Dry Vacuum is perfect for sucking up wet and dry messes both indoors and outdoors. It can be wall mounted to your garage wall so you are prepared for any mess in the front yard, driveway or garage.

If you run a heater or air-conditioner on a regular basis it's crucial that your space is well-insulated in order to save money.  Clopay Garage Doors offers products that are eco-friendly, energy efficient and attractive.
When you need to park in a garage that's not your own, the ParkWhiz app shows you available parking garages and parking prices near your destination. ParkWhiz suggests secure garages and parking in over 160 cities nationwide.
The difficult part of being tech savvy is that new inventions are always coming forward, and what was innovative one minute is irrelevant the next. But you have to start somewhere! Create your smarter, more efficient garage with the products above.