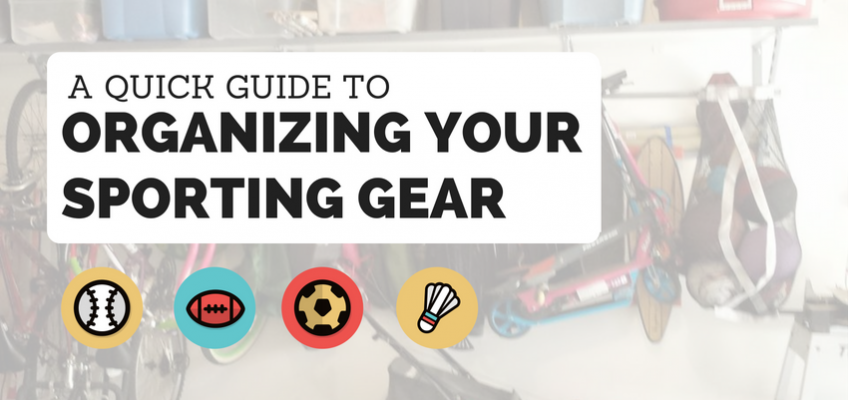 A Quick Guide To Organizing Your Sporting Gear
08/12/2016
The Olympics is an exciting time for us spectators to cheer on our favorite athletes and countries. We admire the dedication to their sport, technique, and physical prowess. For some of us, this event motivates us and our children to resume an old sport or try a new one. We then wonder where to store all of the new equipment.
We've gathered a few ideas to help you plan your sporting gear storage strategy.
Accessibility vs. Saving Space
In theory, you could stick most of your items in boxes, store them on overhead shelves, and free up your floor and wall space. It's just a huge hassle to get to the equipment when it's game time.
Ask yourself, "Which items does the family use every day? Which items are used less often?"
Items used more would benefit from easy accessibility.
Items used less can be stowed away.
There is a range of storage solutions, from shelving, overhead storage racks, and cabinets, to choose from. Deciding on the right kind of storage really comes down to what you want from your storage. Do you want more items accessible or do you crave open space in the garage?
Keep your items easily accessible with solutions like hooks, shelves, baskets for the smaller items, buckets or large storage totes. Open up more floor space with items like overhead storage racks to get items safely off the ground.
Use Storage System Strengths To Your Advantage
Hooks on pegboard or slatwall makes it easy to grab stuff off the wall, without needing to rummage through a tote. Just remember, your wall space will quickly fill up. Hooks may be your best option for hanging bulk items that won't fit on a shelf or tote, like bikes and skateboards. If you don't want to use a bike rack, plan where the large items go before placing commonly used items on hooks.
Totes are handy for safekeeping anything you don't use often. They are awesome for opening up floor space. Since items in totes will be used infrequently, store them on a high shelf or overhead rack to leave room for important items at an arm's-reach range. Don't forget to label your totes so you won't forget what's stored inside.
Small, metal baskets attached to the wall or shelving are great for holding loose things, like tennis balls and gloves. Place larger items like basketballs, volleyballs, and soccer balls in bins and mesh bags. If you don't want to leave shoes sprawled across shelving, cubbies are a great alternative to keep them contained.
Sort Items Into "Zones"
Bri touched on this in her post last month. This is an idea to keep in mind if you own a lot of equipment for just a couple sports. Allocating one part of the garage to football and another to baseball allows the children to be responsible for keeping their part of the garage tidy.
Organizing the sports gear can be a challenge, even for an Olympian in training. The hardest part of a project is simply getting started. A detailed plan of action makes this easier. These ideas above will help you get started on drawing out an effective storage plan and eliminate one of the barriers in the way of achieving the gold medal.