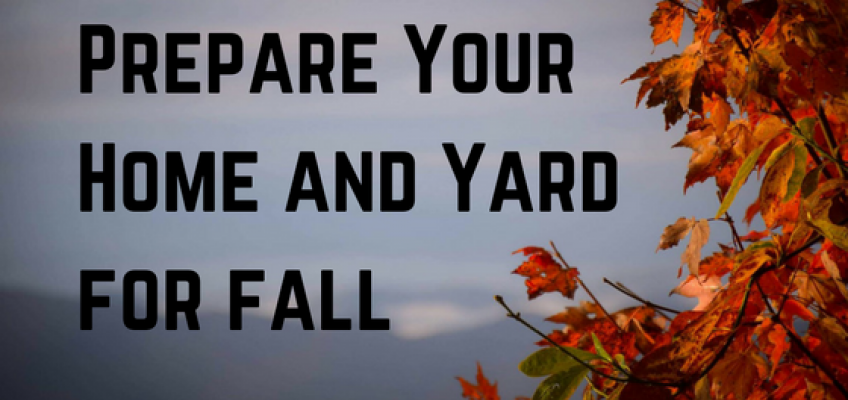 Prepare Your Home and Yard for Fall
09/23/2016
Even with the start of a new school year, many of us are still in denial that the summer heat is coming to a close. Instead of watching the summer weather and memories go with sadness, it's important to look forward to fall with excitement! The change in weather is accompanied by beautiful colors and fun holidays around the corner!
Unfortunately, fall is also the beginning of cool and wet temperatures which take their toll on our homes. Take advantage of the final days of summer by preparing your home and yard for the fall and winter seasons. Following this list can provide peace of mind that your home is taken care of from all the elements that colder seasons bring.
Clean the gutters while they are dry:

I am a Seattle Native, and as a teenager I was often tasked with cleaning out the gutters. This job was often done in the early stages of spring, after water, snow, and leaves had been building up for months. In order to avoid this unpleasant experience and protect your gutters from clogging during the next few months, clean them out while the warm sun is still shining!

Channel your inner chimney sweep and clean it out:

We often don't give a second thought to our chimney or the need to maintain it. Even new homes should have their chimneys inspected and cleaned every year. Even slight damage to a chimney can be a huge safety hazard to both the home and those living in it.

Seal gaps around doors and windows:

My dad used to always say, "close the door, I am not paying to heat outside!" Come January, warmth is a precious gift that needs to be protected. Within the next month, take time to seal cracks around doors and windows. Either replace seals entirely, or repair caulking.

Drain and turn off outdoor faucets:

Enjoy driveway DIY car washes while you can, come late October the bucket and sponges will be placed back on the shelf until warm weather returns. With that being said, it is crucial to turn off water to outside pipes and faucets. There are too many horror stories of floods being caused by frozen pipes, we don't need to add to that list.

Furnace/Generator preparation:

Hire a professional to test your furnace for heating efficiency, carbon monoxide, and other potential leaks. If you own a small generator, make sure you have extra fuel stored in the garage or shed for emergencies. Always run the generator outside with the garage door closed.

Roof check:

Opposed to popular belief, a roof check can be done with two feet safely on the ground. Grab a pair of binoculars and look for damaged shingles. You may need to get onto a ladder to get a better view, and remove any debris.

Inspect trees:

This piece of advice depends heavily on where you live and if there are large trees that could pose a threat. Having trees trimmed can have several benefits. Not only does it prevent the chance of damage during winter storms, but will help for better growth in the future. Specifically look for damaged limbs that may break and are too close to power lines.

Clean flower pots:

Who doesn't love beautiful flower pots next to the front door? If the flowers in the pots are year round, it is important to bring them inside before the weather gets too cold. If the flowers are replaced each Spring, then empty the pots, make sure they are dry, and store them.

Plant bulbs:

Appropriate preparation in the Fall can result in a more beautiful Spring garden. At the end of winter, it is such a relief to see young tulips sprouting and receive the reassurance that warmer days are on their way! Now is the time to plant spring bulbs and bring smiles to the faces of all who pass your yard!

Fertilize the lawn:

Fall preparation will lead to a nice green Spring lawn. Fertilize your lawn in the Fall to protect it during the cold winter months. The type of fertilizer you will need will vary based on climate and location, seek advice from your local garden center.
All these steps are simply designed to help create the best winter hibernation possible! Take this list one step at a time and have a worry free mind during those snowy days around the corner.