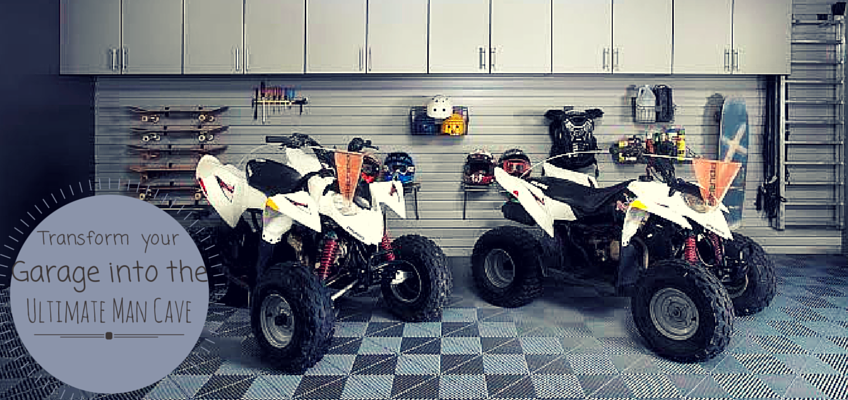 Pimp My Garage - Building the Perfect Man Cave
01/27/2012
Have you dreamt of turning your garage into the perfect man cave to work on that classic car or street bike? If yours is like most, it's probably in need of a serious garage organization plan, or quite possibly a complete declutter and overhaul. Before you pimp your ride, you'll want to get your garage in order. Just think...Won't it be nice to finally be able to find the nuts and bolts, spare parts, and your tools? You and I both know it's much more fun to work on that ride when everything is in order. Well, it can be done and most likely for much less money than you think. Here's a budget garage organization solution that won't put a squeeze on your wallet:
Epoxy Garage Floor Coating
If you've ever ripped out old, outdated carpeting inside your home and replaced it with hardwood flooring or Italian tile, you can easily remember what a huge difference it made. It was like night and day. With the old carpeting, it didn't matter what you tried. Even when you cleaned it, the room still looked bad. This same concept is true for your garage. If your cement floor is stained and possibly even cracked, it's always going to make the entire garage look dingy and unfinished. An epoxy garage floor coating is just the start you need for the perfect vehicle repair center. With several colors to choose from, you can have a whole new look in just one weekend. 
Wall Cabinets and Garage Shelving
Organization is vital for the home garage mechanic. Tools and parts left out on benches or on the garage floor will get lost or possibly even ruined. Your more expensive tools should be stored in wall cabinets that lock, while garage shelving and a peg board can be used to organize other tools and parts. You'll also want to have two separate areas, one for parts and another for tools. Don't mix the two areas together.
Garage Overhead Storage
You may be building your dream garage / man-cave due to the fact that you're single so there's no one to disagree with the idea, or your wife may be onboard with the idea. If there are family members other than yourself to consider, you'll want to install garage overhead storage to hold seasonal items, luggage, and other items you'd like to store. You also may want to use one side of the garage for lawn and yard equipment. If that's the case, wall hooks can be installed to hold yard tools and hoses up off the garage floor. Even bicycles can easily hang from garage wall hooks.
With just these items, you've got a great start to the perfect garage at an extremely reasonable price. Over time you can add another cabinet or two. Don't forget a window air conditioner for ultimate garage / man-cave comfort.