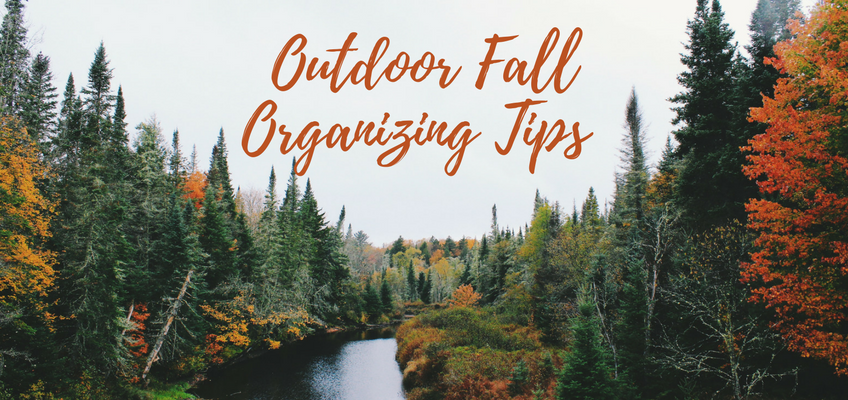 Outdoor Fall Organizing Tips
10/19/2017
We spend a lot of time organizing and cleaning the inside of our homes but it's important to get our outdoor areas taken care of as well. Fall is in full swing and winter is right around the corner! As you enjoy the cooler temperatures and the smell of the leaves changing color, don't forget to take care of your home's exterior before the cold weather hits.
Tip #1: Put Away Patio Furniture. This is especially important if you live somewhere where it snows a lot. Put away your patio cushions and pillows and conceal any furniture that can be damaged by cold weather. This way, you won't have to buy new furniture when summer rolls around.
Tip #2: Clean Your Garage. This is a great time to clear out all the clutter and mess that can accumulate during the summer months. Make room in the garage to store your patio furniture and be sure that there is room for your car too! The garage is meant to house our vehicles so get a head start on protecting them from the winter elements by organizing your garage.
Tip #3: Get Your Home Ready For Winter. Now is the time to make sure all holes or blemishes in the exterior of your home are taken care of. Be sure to clean windows, window seals and gutters before temperatures get too low to be outside comfortably.
Tip #4: Clean Off Your Deck. Lastly, clean off your deck and porch. If needed, add a fresh layer of top coat to ensure that your deck and porch are protected from rigid winter weather.
Once the weather starts warming up next spring, you will be grateful that you didn't neglect the outside of your house. With these tips in hand, you're ready to get started on caring for your home's exterior!
photo credit