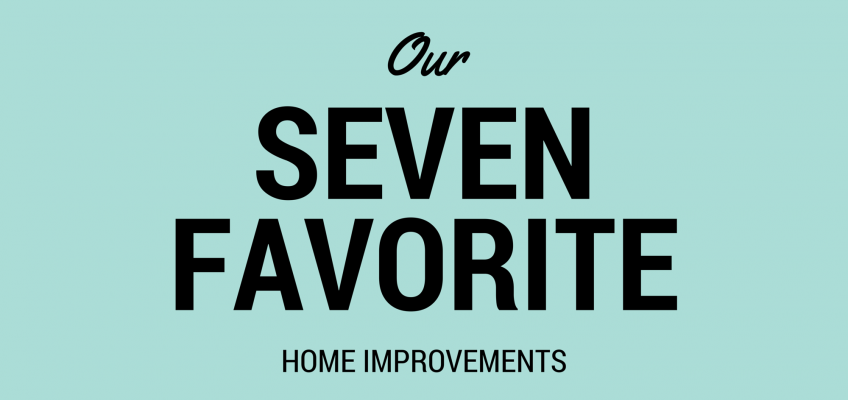 Our 7 Favorite Home Improvements
04/22/2016
Technology Upgrade: Most Americans have some form of smartphone or tablet. Those devices can now be integrated with your home! With just a tap on a phone, homeowners can turn off the lights in their home or make sure the garage door is shut. Not only is the home safer because of this technology, it also saves money and energy by monitoring the temperature and lighting in the home.
Wall Upgrades: Made popular by shows like Fixer Upper, more homeowners are upgrading the interior walls of their homes with shiplap, previously used for the exterior in barns and older homes. This texture adds definite personality. Add another splash of personality to the home by bringing the outside in with vinyl siding for interior walls.
New Countertops: Have you ever thought of using concrete as a countertop? Neither had we, but the trend is quickly catching fire! Compared to other countertop materials, going the concrete route is surprisingly affordable and so stylish!
Open Spaces: Taking out a dividing wall can be tricky, so it's always best to hire a professional for this home improvement project. Opening up walls in high traffic areas like kitchens, dining rooms and living rooms can give your home a much larger feel. The people in your home will also feel more connected because there are no walls in the way.
Painted Front Door: Adding curb appeal is one of the most beneficial home improvement projects - especially if you are trying to sell your home. Zillow once said that curb appeal is one of the top 5 most important factors in selling your home. Adding a fresh coat of bright paint to your front door is a great first step in creating interesting curb appeal.
Garage Makeover: Many homeowners have 2 or more vehicles but most can't fit both in the garage due to storage disasters. Adding shelving to the garage will make it easier to get things off the floor while keeping what is used frequently within reach. Garage flooring also adds instant value to the space. Go with a seal rather than a paint when it comes to garage flooring. No one wants to deal with flakes or peeling in a few years.
Window Replacements: Updating windows doesn't just look amazing - it also saves money in the long-run. Older windows may be letting in too much heat, causing the air conditioning to turn on too frequently. They also are not insulating the heat on a cold day. Energy efficient windows keep your home at a comfortable temperature, while saving you money on heating and cooling.
Before starting any major home improvements, consult with a professional to make sure that improvements are done correctly and according to code. Also, consider the return on investment of any remodel, because not all improvements are created equal. Check out Houzz for more inspiring home improvements!