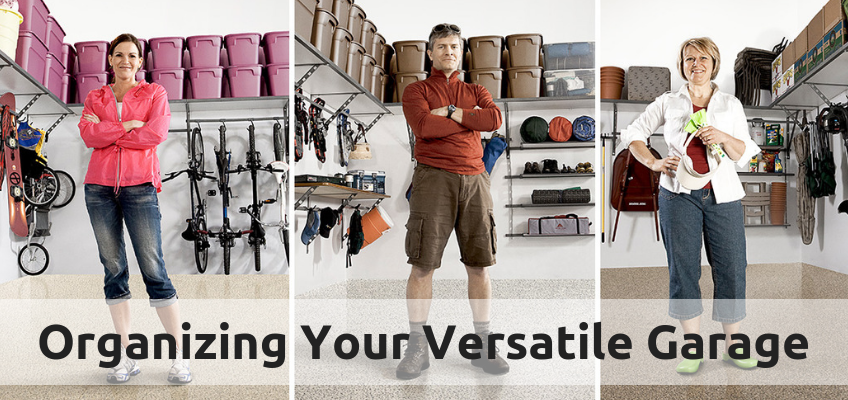 Organizing Your Versatile Garage
10/04/2018
It's not uncommon for our garage to become the dumping ground for anything and everything that doesn't fit perfectly inside the home. Over time, all the "stuff" you've been saving adds up and when you finally have time to work on your Pinterest worthy project, you have nowhere to set up.
If you know you not only want to park your car in your garage but want a space for home projects and a man cave you may want to start organizing your garage. Organizing a versatile garage isn't difficult if you make sure to start with a plan.
Get It Off the Floor
You have many different aspects of your life in your garage that you probably want to keep. However, having to walk around boxes, tools, and sports equipment doesn't allow your garage to live up to its full potential. Use the walls and ceiling to organize your belongings without taking up walking and car space. Consider using overhead racks to store your lesser used items such as camping gear or seasonal decor. You can also utilize a garage shelving system to give you even more flexibility in storage with totes and larger objects.
Install Slatwall
After the installation of a slatwall, you will have the freedom to organize your tools, gardening equipment, and even sports equipment to your liking. As your lifestyle changes over time, you will be able to adjust and change your wall to make sure the items you use most frequently are within arm's reach. Slatwall also gives you the ability to see your storage without having to rummage through a tote or open any cabinets.
Fold-Down Workbench
A fold-down workbench will give you the freedom to work on your awesome projects or to park your car inside your garage. You are able to customize your folding workbench to make sure it fits the space you find ideal for projects. This will also help you keep your project equipment more organized and keep little fingers from finding tools accidentally.
Add Lighting and Outlets
No matter the use of your garage, having more lighting is always a plus. Installing LED bay light fixtures will give your garage a brighter environment. Brighter lighting will allow you to see the finite details of every project and keep everyone who enters the garage from tripping or sleeping on an unforeseen object. If you plan to use part of your garage as a media center or have lots of power tools, consider installing several 4-plug outlets. These will help you cut down on using extension cords and gives you more freedom in your garage.
Keep It Organized
Now that your garage is ready for anything and everything that comes its way, be sure to keep it up! Schedule out 15 minutes each week for you and your family to do a quick tidy up of the garage to make sure everything is back in its place. Don't keep items you know you won't actually use as they take up needed space and make it more difficult to keep other items organized. To help make organization easier, place labels on the ends of totes or cabinets to help everyone remember where items should return to.
Having a versatile garage will provide the whole family with extra space for activities. As you get ready to tackle this project, be sure to include everyone and get their input so you can maximize your garage space in the best way possible.