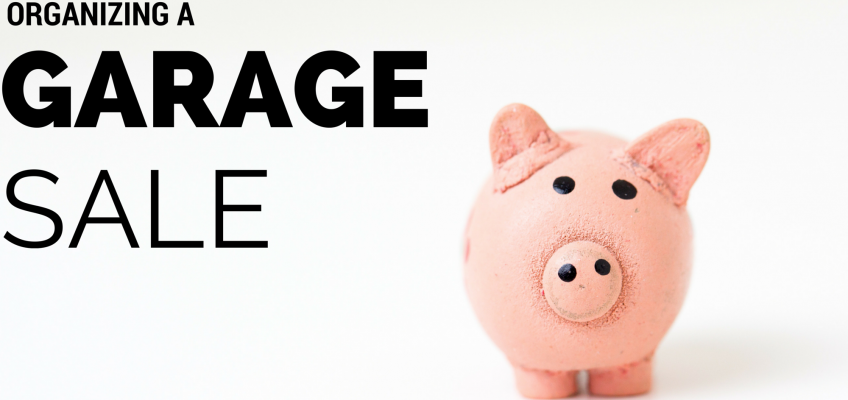 Organizing a Garage Sale
05/27/2016
Now that you decided to organize your garage this Spring, what are you going to do with the items you don't want? Start organizing a garage sale! Making money by organizing your garage is a great incentive to get you started. Below are some basic steps to have a successful garage sale.
Advertise- Make sure to let people know you are having a garage sell by posting signs at your local grocery store, community center, and around your neighborhood. Before placing any signs double check that you are allowed to post! Include the date, time, and location on your signs. Make sure you use neon colors and that your signs are legible. You can test how legible they are by driving past your signs. You can also try advertising on Craigslist and your local Facebook group pages.
Money- Your goal is to make money. Have a table for receiving cash and make sure you have plenty of single dollar bills because plenty of your customers will pay with large bills. You might want to have a calculator on hand. You can also sign up for Square to accept credit cards at your garage sale. When was the last time you carried cash with you?
Pricing- Avoid putting items on tables for the same price. Customers could pick up one item from that table and put it in the $5-dollar table. This will create confusion for you and your customers. Use colored labels for each individual item. For example, white labels are $1, green labels are $2, blue labels are $5, etc.
Display- Selling is all about the display. If you walk into any grocery store or clothing store, they put all their efforts in displays to get more sales. You should do the same! Avoid putting things in boxes, as it will hide your items and no one wants to dig through them. Display your items on tables, chairs, and shelves. When it comes to clothing, use hanging rods, hooks, or portable hanging racks. If you don't have a hanging rack, you can make your own by creating a hanging line with rope. Organize your clothes by gender and size. This makes it more appealing for customers to go through. If you have dinnerware, display each piece on a table. Add a table cloth, placemats, napkins, etc. This will help people envision the dinnerware in their own home.
Take Signs Down- After a successful garage sale, make sure that you take down all your signs to avoid people coming to your home later.
Organizing a garage sale is simple and beneficial. You get to declutter your garage and make a little money at the same time. Now you just have to decide what to do with your spacious garage and garage sale profits..