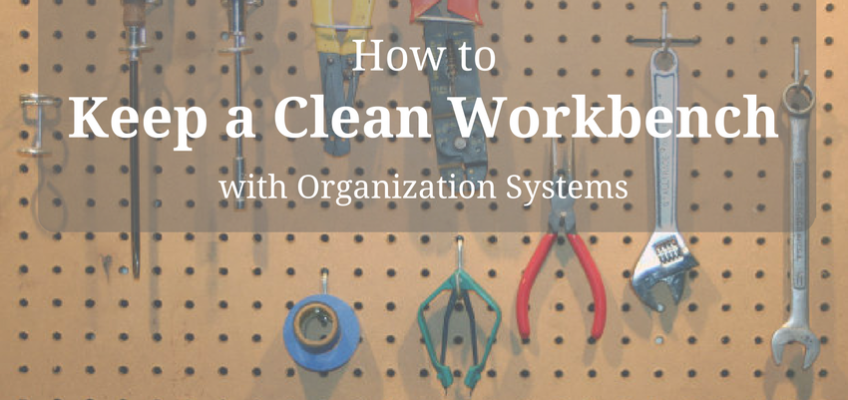 How To Keep a Clean Workbench with Organization Systems
09/16/2016
Workbenches get messy. What little room available on one can quickly fill up with tools and materials from the last project. In this post I discuss what type of organization systems to buy and how to use them for your tools. I recommend using a combination of all the options listed below where you see fit. Your needs generally hinge on the amount of tools you own.
Slatwall and Pegboard – Take advantage of the space on your wall by installing hooks and small racks for your screwdrivers and wrenches on pegboard or slatwall. Use this area for frequently used tools you can quickly grab or swap out with other ones. This leaves the bench clear of tools while keeping everything within arm's-reach for convenience sake.
If you plan on hanging many heavy items, I recommend going with slatwall. If not, steel pegboard works great for holding a typical range of tools. Try to avoid cheap wood or hardboard unless you only plan on hanging a few items or own a smaller toolset.
Tool Chests and Drawers - Large tool chests or drawers underneath the workbench are handy for storing the bulk of your materials and keeping them organized in distinct compartments. However, the drawers can become chaotic if too many random nuts, bolts, sockets, etc. are carelessly thrown in. Adam Savage from Mythbusters designed his toolbox around a concept he invented called "First Order Retrievability", where no item needs to be moved to access another. This brings me to my next point.
Dividers – It is the worst feeling to be looking for a specific screw size in one bin of assorted screws. Removable trays and drawer dividers will make your search for the right tool substantially more efficient. Allocate different sections for nuts, bolts, screws, nails, and fasteners.
Plastic Bags - Use small plastic bags to keep different size materials grouped together for easy access. Store the baggies in the same compartment and label them with their respective sizes.
Labels – Labeling helps keep track of many different components when memory fails us. Use labels on bags, hooks, and drawer faces where item sizes or dimensions need to be specified.
If you use your tools frequently, these organization systems are a worthwhile investment for keeping the garage clean and preventing lost items. Home projects start quicker and are less of a pain when you have everything you need in front of you and ready to go.