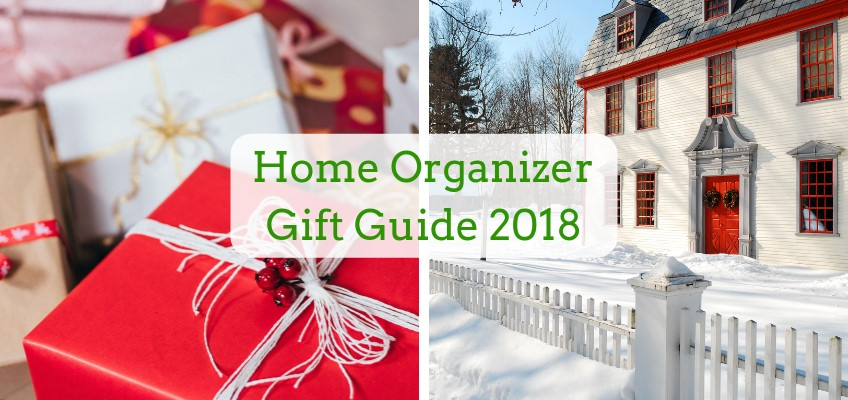 Home Organizer Gift Guide 2018
12/20/2018
Gift-giving is a daunting task. It can be even harder to find a gift for that special person in your life who just wants something practical. That's when a gift to improve that person's home will make the perfect gift.
The home is an important part of our lives, yet it is often neglected and left unorganized. Each area of the home can benefit from a little bit of organizational help, but the question is where to start? If you're struggling to find a gift for that practical person, these gifts will be exactly what they want and need.
Kitchen
Labeled Containers
There is a huge need for organization inside a pantry. With so many different varieties of food packages, shopping trips, and family or friends grabbing food, it is easy for the pantry to look like a tornado hit it. It may seem like a never-ending job, but there are a few items that can help you conserve space.
To start off, food packages were not made to stack nicely in your panty with all of your other pantry items. A must-have in the perfect pantry is consistency in size, shape, and color of your storing containers. Containers like the ones in the photo below are perfect examples of this.
You will then want to label each container. The owner of this pantry chose to use vinyl to add a professional touch. You can do this yourself if you have a vinyl cutter like the Cricut Explore One or you can buy black paper and use chalk to name each tub.
Living Room
3-6 Cube Storage Organizer
The living room is the place where everyone gathers. As it is probably the most used room in the home along with the kitchen, it can easily become messy. Since there is limited storage in your living room, utilizing furniture with ample storage will go a long way.
A popular storage piece right now is a 3-6 cube storage organizer. This organizer allows you to store items in baskets or bins inside each cube, making clean up as easy as tossing items in the bin to be concealed out of sight. While there are many options for the bin or basket you use, the bin here is a durable and personalized option to add to the organizer. You can choose the stain and handle color to match your style.
Laundry Room
Glass Jars
The laundry room should always be a place where you can go to clean things. Having the right organizers and essential items in the laundry room can free up valuable space and help you keep your family clean and organized.
There are hundreds of items out there to help you organize your laundry room, but it is always hard to know where to start. For your everyday essential items, you can purchase these great glass jars to make your room pop and help keep things organized. They can be purchased here, and will help you get rid of those ugly laundry detergent and softener containers.
To add a little touch, you can also purchase these customizable labels to help you keep everything neat.
Bedroom
Underbed Organizers
Your bedroom should be a place of sanctuary, the area you can go to relax and get away from the craziness of day-to-day tasks. However, this can be difficult if your bedroom is in a state of constant chaos and clutter. If you've tried to organize your bedroom and simply can't find a place for everything, it's easy to feel defeated. Selecting the right organization system will transform even the smallest bedroom into a tidy relaxation space.
Underbed organizers provide extra space to store clothes, linens, and other miscellaneous objects without taking up more valuable space in your closet or walls. If you're looking for a system for a smaller bedroom or a college dorm, be sure to look into this underbed storage kit.
Bathroom
Small Wall Cabinets
Bathrooms are generally smaller spaces but have their fair share of stuff that needs a place to live. Cluttered countertops are the first indicator that your bathroom is due for a storage upgrade.
The biggest hurdle with bathrooms is you can't just buy one set of racks or shelves because there isn't enough room for those, especially in a powder bathroom. So you'll have to get creative by using multiple small organizers.
Small wall cabinets provide a place for bathing products, cleaning supplies, hand towels, and toiletries while serving as a subtle decorative piece. If you plan on getting one of these, we've found they look the best and aren't in the way if placed on the wall space above the toilet.
Craft/Kids Room
Floating Shelves
Unlike other rooms in your home, a child's room needs to be designed a little differently. Children need storage solutions that are not only accessible, but that are durable and low-profile so play isn't hindered. Every parent will tell you how nice it is for a child to have a space where they can play and make messes that isn't the main living space of the home.
Utilizing the wall space for storage is a great way to free up floor space for play. We love these stylish and functional floating shelves for books, stuffed animals or other small items. They are a perfect solution to keep things organized. Easily mounted lower to the ground, children can grab toys and most importantly put them away when they're done.
Home Office
Monitor Stand
Pens, papers, and sticky notes clutter up your desk space almost instantly, which might make working at your computer a little more difficult. By having a way to keep things organized, staying focused at your desk becomes a lot easier.
This sturdy monitor stand not only provides a place to stack your screen and bring it to eye level, but it has a built-in drawer system that is the perfect solution for hiding smaller desk items. You can put pens on one side, notebooks on the other, and still have room to slide your keyboard underneath.
These organizational items are sure to surprise any organized person in your life and may even benefit you as well. Hopefully, these organizers bring order to your daily life and add a little style to your home decor. Starting 2019 with an organized home is the best way to start the year off right.