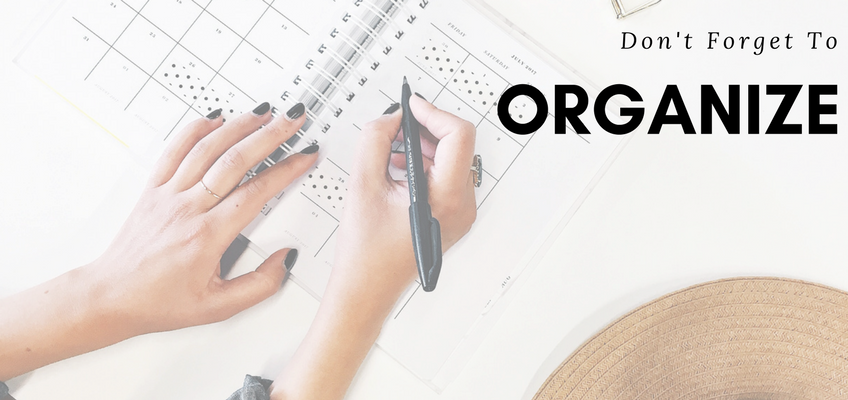 Don't Forget To Organize
09/01/2017
September can be a chaotic time of the year. Kids are back in school, seasons are changing, the weather is getting colder, and you might find that with everything going on, it's easy to let your home get cluttered and busy. Papers are everywhere, bags and shoes are easily tossed in the entryway of your home without much thought. Before you give in to the madness, let us give you some motivation to stay organized.
Happy Life
An organized space is a happy space. When there's clutter and constant scattered messes, it's hard to feel like you can relax. It obviously creates a stressful feeling in the home. Your home should be a sanctuary. A place where you and your family can rest from the everyday demands of the outside world. Keeping it organized and knowing that everything has a designated place will allow everyone to feel peaceful and carefree when home.
A Productive Environment
It's almost impossible to focus or be efficient when the house feels disorganized. A orderly home and workspace helps creativity flow and eliminates distractions. With more space to work, and fewer messes to focus on, you can hone in on a task and really give it your all. You'll find that you can complete projects and goals much quicker
Save Time
Taking the time to get the whole house organized seems like a daunting task at first, but think about how much time you'll save yourself in daily living! You'll have fewer little clean-up jobs to do around the house. You'll also spend less time digging through messes to find your keys or favorite shirt. This means more time to spend helping kids with homework, enjoying the fading warm weather nights, cutting down on being late to work and other precious moments with your family.
Don't let your home become a place that causes you stress or makes you feel like you're constantly working to keep it clutter free. Setting a plan to organize before life gets away from you will help you enjoy the benefits of an organized home.