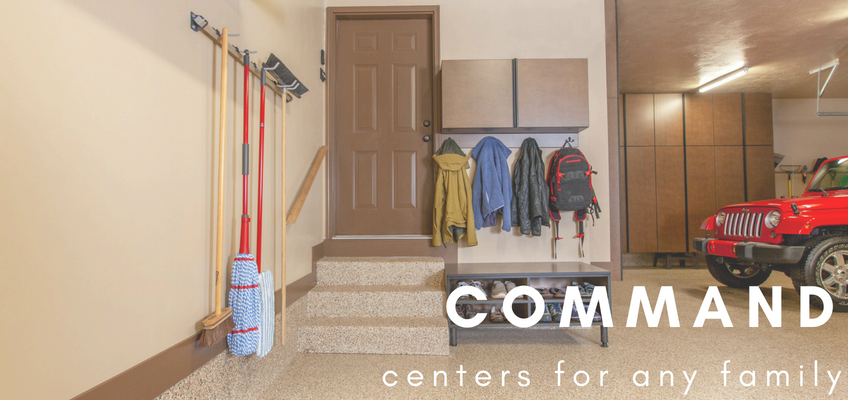 Command Centers for Any Family
05/25/2018
We all know how annoying it can be when you don't have a spot for shoes, coats or bags and they seem to end up in a pile in the middle of your floor. Using a variety of custom garage storage solutions to fit your family's unique storage needs, you can say "goodbye" to the after-school or work pile and say "hello" to a more organized and functional home! Command centers and functional garage storage are more related than you'd think.
One of the best ways to avoid the after-school shoe, coat, and backpack pile in your home is to get ahead of the issue. Creating a home for these items that can be easily maintained and used by the whole family is key. Putting the system next to the door of the garage makes it easy to put away items before you even enter the home. And when you leave the house again, all of your important items are right there for you to grab on the way out.
Keeping items safely stored off the floor is important in the garage as dirt and debris are often tracked inside by vehicles and pets. Pests like spiders and ants are also common within garages. If items like shoes and jackets are left on the floor, chances are that insects will take up residence and no one enjoys putting on a pair of shoes just to find a spider inside. Using elevated cabinets and wall-mounted shelving will not only maximize your storage and help your garage maintain organization, it will also keep your items safe.
It can be difficult to find a command center system that works for your family because, let's face it, your family isn't the same as the family next door. Creating a command center that fits your family can be overwhelming as it's hard to know where to start. Ask yourself what you want from a command center. Is this a space simply for storage of shoes, coats, and backpacks or does it also need to store sports equipment? Do you need this space to keep track of commitments and events? Will you use this space to store mail?
If you just need a space to store the basics, cabinets and wall-mounted shelves will be the best solution for your command center. You can also easily store sports equipment on wall-mounted shelves and racks. Need to keep track of mail? Check out these stylish and mutli-functional wall mounted letter organizers! Amazon also offers a variety of large command center calendar options if you need to keep your schedule organized along with your shoes, backpacks and jackets.
How will you organize your family's command center? We want to see your ideas! Share your command centers with us on Facebook or Instagram using the hashtag #CommandingCenters