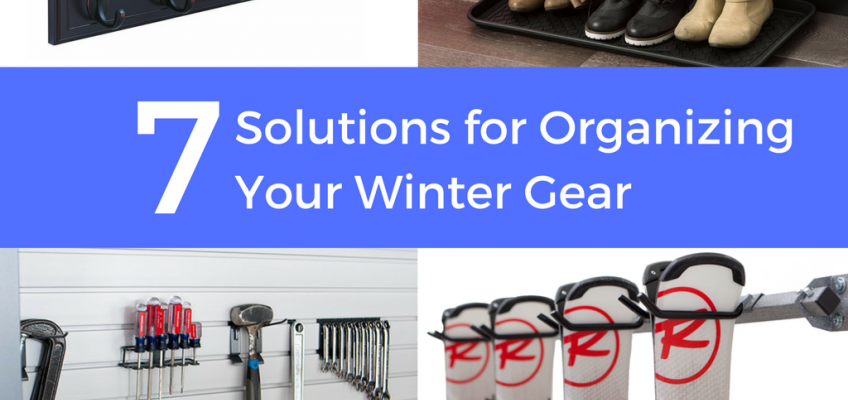 7 Solutions for Organizing Your Winter Gear
12/15/2017
Winter easily takes the #1 spot for brining most clutter and mess into the home. Snow and wet weather makes it difficult to stop tracking mud, water, and road salt into the home. On top of that, new belongings from the holiday festivities, holiday wrapping paper, and house guests bring on even more mess to pick up after. So, we're just a few days away from living in the season when home organization is needed the most.
To make the cold season a little more bearable, we have picked out some of our favorite organization systems for storing winter equipment, clothes, and holiday decorations.
Shoe Racks and Mats

Shoe Mats
Wet and muddy footwear is the first thing to examine for your organization plan because it can save you from needing to replace the carpet. A shoe rack over a mat or tray will allow you to keep a lot of wet footwear in one area. I personally think it is a better choice than having mud ruin nice looking cubbies or your tile in the mudroom or entryway.
Coat Hangers & Hooks

Coat Hooks
These are a must-have if you don't want wet clothes kept in hallway closets that contain dry items. Hooks allow coats to drip dry and are convenient for children playing in the snow all day.
Mudroom Storage Sets

Mudroom Storage
Organizer sets bring shoe racks and coat hangers together into one solution. Again, I would place small mats in the shoe cubbies to prevent them from ruining.
Ski Racks

Monkey Bars Ski Racks
These are a must-have if skiing and snowboarding is a winter tradition for you and the family. It's definitely worth the cost versus carelessly shoving the skis in the corner.
Overhead Racks

Monkey Bars Overhead Storage
This is an excellent choice in the garage for holding seasonal decorations, lighting, and your summer tires up and out of the way. Garage overhead racks make it so you don't have to worry about using the attic or take up more room in the basement.
Slatwall
Slatwall adds convenient access to your snow shovels, ice scrapers, and other tools. It's also pretty useful storage for your year-round items as well.
Snow Salt Storage

Snow Salt Storage
For homeowners who use de-icing agents on their driveway and walkway, it helps to have a small container to store it all. A bucket or storage container like this one will do just nicely, so long as it prevents spilling in the garage.
Winter brings a variety of seasonal gear and items, so we could only cover a fraction of it here. But these ideas should help you get started on the right track toward a tidy home for this holiday season and the New Year.