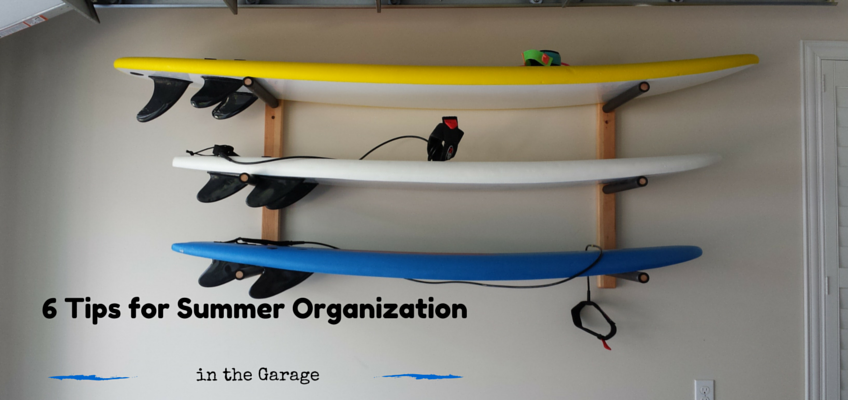 6 Tips for Summer Organization in the Garage
06/05/2015
Things can get out of hand quickly around the house once Summer begins and the kids get out of school. An explosion of bikes, balls, pool noodles and towels can take over the house. Summertime also brings lots of family and friends visiting, which can add to the confusion.
There has to be a strategy to handle the summer-madness. Using your garage to keep control is a smart option. Having specific, designated places for items can help keep things in order. Summer organization in the garage is much easier with the right equipment, such as racks from Gorgeous Garage. Here are 6 tips for summer organization in the garage:
1. Towel Hooks
Sprinklers, pool parties and water balloons can result in a pile of soaking towels in the laundry room. To solve this problem install several hooks in your garage. This gives your kids a designated place to hang and dry towels without all the water and mess inside your home.
2. Pool Toy Storage
Do you have trouble finding a place to store all of your pool toys? Try getting a large bin or basket to hang in the garage. Having a designated spot for noodles and floaties will help your children remember to put them away when finished.
3. Bike and Scooter Parking
Kids frequently forget that the purpose of the garage is for parking the car. They also frequently leave their bikes and scooters right in the middle of the garage. This forces you to get out of the car and move that misplaced bike. Creating "parking spots" with masking tape designates a specific spot for scooters and bikes. Now there will be place for both the car and kids bikes.
4. Baskets for Balls
Try hanging baskets in the garage for the many sports balls lying around the house. Ball bags will create a place for your sports bags and contribute toward successful summer organization in the garage.
5. Hanging Boards
Paddle Boarding, kayaking, surfing and wake boarding enthusiasts sometimes have a difficult time deciding where to store the boards. A smart solution is racks like these image below.
Another smart solution is storing them overhead.
Both options will protect your board from dings and dents while storing them out of the way.
6. Shoe Rack
Summertime brings lots of friends and family to the house. A hanging shoe rack in the garage could eliminate the pile of shoes in your doorway.
Not having designated places for items around the house can often lead to confusion and clutter. Keep your home in order and use the garage as a specific place for housing those items. Your home will be prepared for whatever Summer throws its way.