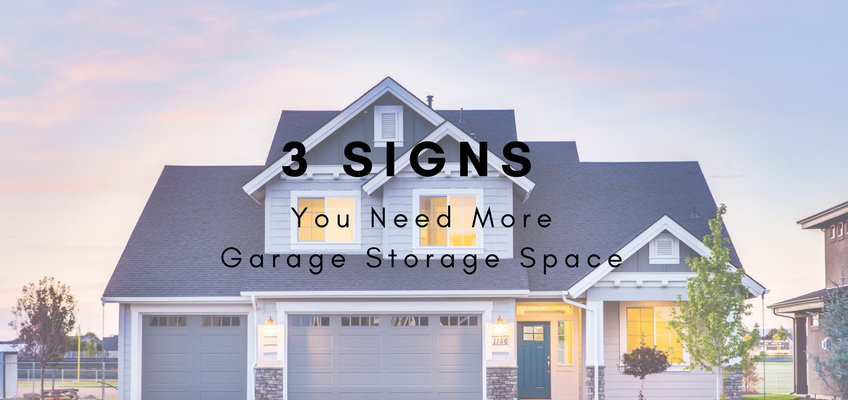 3 Signs You Need More Garage Storage Space
09/08/2017
Most households have such a cluttered garage that they don't have room to park cars in them or find items that they need. It might be time for you to get organized if you fall into any of these categories:
You Park Your Car In The Driveway: Your garage is a great place to store extra items but its primary purpose is to protect your vehicles from the elements and theft. If your garage is so full that you can't find space to park your car/s, it's time to get organized! Utilizing wall space is a great way to start your organizational process. Adding shelving frees up space on the ground and allows you to protect the most valuable possession your garage holds, your car.
It Takes Forever To Find Your Things: If you can't find a clear path in your garage to search for things that you seem to never be able to find, it's probably time to declutter. Start by going through and purging your garage of items you really do not need or use. If you have more storage than your garage can handle and have a hard time letting go of your stuff, consider looking into an off-site storage facility. For the items that you need to keep close by, consider purchasing a garage storage system that will help you keep your items organized and in a specific space. Garage cabinetry and shelving is a great way to store a variety of items that can be found and replaced with ease.
You Have A Lot Of Items That Aren't Used Daily: There are a lot of household items that are important but are sometimes only used during a certain time of the year, such as holiday decorations. Keep these items organized and on hand but out of the way by storing them off the ground. Consider installing overhead storage in your garage for extra space to put your seasonal storage items.
If you are in need of some garage organization, start with the basics. Declutter and purge and bring in useful garage storage systems to help you make the most of your space. You will be amazed at the relief you will feel when your storage space is organized. We wish you the best of luck on your journey to an organized garage!
Photo Credit: Binyamin Mellish