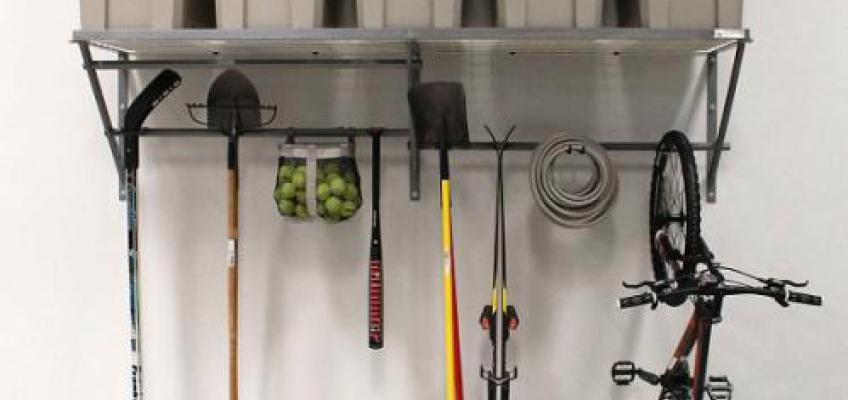 10 Inexpensive Household Items to Organize Your Garage
11/08/2013
Large garage storage systems are great for a complete garage overhaul. But for quick small fixes, household items can do the trick. Cut the clutter in your home by using these 10 inexpensive household items to organize your garage.
1) Plastic Totes: Have off-season items that need a home safe from water, dust, and pets? Plastic Totes are a great solution! These rather inexpensive household items provide a perfect place to store things that you don't want crushed.
2) Hooks: While most people think of hooks as great for hanging coats and drying towels, they provide the perfect solution for almost every tool in the garage. Paint rollers, brooms and garden tools can all get off the floor and out of the way.
3) Mason Jars: Perhaps the most stylish of the 10 inexpensive household items to organize your garage, these jars are great for storing small items. Plant seeds, nails, and spare washers will have their own place in individual jars. For quick access simply keep the lid off.
4) Extra Fabric: Sick of all your tools and messy shelves being the first thing you see when you go to the car in the morning? Simply hang drop clothes in front of the shelve.These "blinders" provide an aesthetically pleasing solution and protect items from dust from projects in the garage.
5) Shoe Boxes: Do you throw away your shoe box every time you get new pair? Use old shoe boxes to neatly organize old rags and sandpaper in the garage. Further the organization by making a box for clean and dirty towels.
6) Old Muffin Tins: If mason jars aren't your style or you're looking to compact storage even more in the garage, use muffin tins. By using heavy gauge muffin tins, you can place different sized screws in each slot. This is easiest way to access many different sized times at once.
7) Spare Wood Pieces: Home improvement projects always provide you with extra wood pieces that are oddly shaped. Take that piece of wood, and screw one whole with each drill bit in different sizes that you have. Once done place each drill bit in each slot. At last you have a unique holder for each of your different sized drill bits.
8) Old Christmas Lights: Use old christmas lights to create one of a kind extra lighting in your garage. Hang above workbenches for projects that require extra attention to detail.
9) PVC Pipe: Always looks for a pencil while doing woodworking projects? Cut short pieces of PVC pipe at an angle. Glue them to a piece of wood. Now you have a quickly accessible pencil, pen, and brush holder.
10) Vinyl Gutters: When home improvement projects leave you with extra guttering, use it to create shelves. These shelves are great for storing cleaners and sprays out of the reach of children.
If you need shelves or small item storage, this list of 10 inexpensive household items to organize your garage is the perfect solution. Try the above projects and let us know how they turned out for you in the comment section.