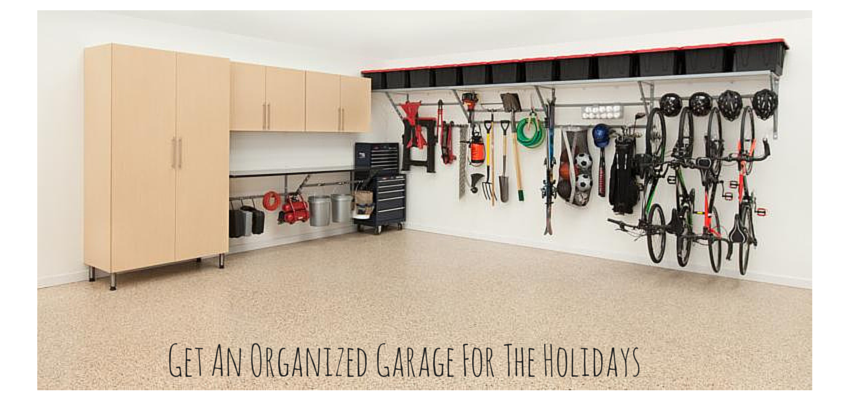 Get An Organized Garage For The Holidays
11/21/2014
With the holiday season upon us, our thoughts are turned toward yummy food, time with family, and the coveted Christmas gifts.When friends visit during this time of year, we usually thinking about the rooms they see the most, like the living room, bathroom, and kitchen, right? Wrong. Here's a few reasons why the garage is the most important room in your home during the holiday season and how you can update it easily.
Why the garage is the most important:
It's your go-to storage room for winter equipment. With snow comes wet tools. From the tools you use to clean off your car to sleds to wet coats, your garage is the holding area for all the things that you don't want to track into the rest of your home. Doesn't a room that's used this frequently deserve to have a good organization pattern set in place for it?
Your guests will see the mess. While you may devote so much effort to keeping guests away from looking in the garage, it's no surprise that there will be a case in which they have to go into the garage. At that moment, there will be no denying the amount of the embarrassment that will be coursing through your body. Why do you do this to yourself year after year? A few simple updates can help to eliminate your embarrassment and majorly up the efficiency in your garage storage space.
Quick updates that make a big difference.
Add a hook shelving system. This time of year you don't need anything hard happening in your life. Your garage storage system should be about ease and comfort. Utilized a hook shelving system to make your garage storage a no brainer. By installing a hook system for items like snow shovels, coats, and sleds, putting things back after you use them doesn't have to be a chore. It's a simple as pie. (And when it comes to helping the kids remember to put up their stuff, don't you want it to be as simple as possible?
Add drop down shelves for easy access. Going with the theme of accessibility, drop down shelves will make your organization game so much easier. They are the perfect solution for items that you want to get up off the floor, but still at a height where children can reach them. Drop down shelving is the perfect spot for wet shoes or gloves. For even more ease, assign each child their own shelf where they can put their wet clothes and shoes, that way you're never wondering where an item is again.
Can't find a place to put something? Put it above your head. When you're working with a small garage, it can be hard to find a spot for everything. The perfect solution for these items is overhead storage racks. By using overhead storage racks you'll be able to get everything up and out of the way, and out of sight and out of mind.
Get rid of the ugly and hard to care for flooring. Nothing is more dangerous than slippery garage floors. There are two fast and easy ways to combat this problem: epoxy and modular flooring. Modular flooring is essentially a tile system installed over your current flooring that allows for water and other debris to flow through cracks, and keeps the upper level of your flooring clean. Epoxy floor coatings are permanently installed as a top coat to your flooring and increase the traction on your garage floor. Both flooring options come in a variety of different colors and textures, and can be installed within 24 to 48 hours.
Why wait for your guests to see your unorganized, ugly garage? Get the most important room in your home organized today.