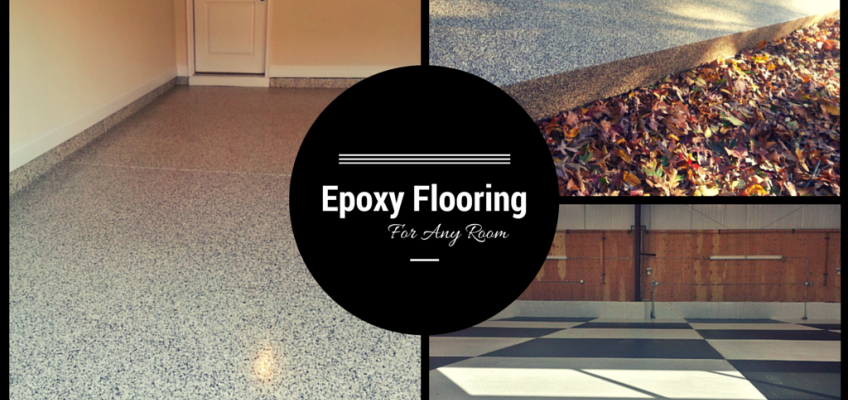 Epoxy Flooring for Any Room
12/01/2014
In an average home, there are at least 6 different spaces that need some type of flooring. Usually it's carpet or hardwood, but what about those spaces that have special uses? We're talking about the rooms where spills are inevitable, stains are frequent, and sweeping is necessary. We've got the solution, and now you can get epoxy flooring for any room easily installed.
Garage: We all know the one place where an epoxy floor is crucial for a professional and functional space. With a simple, 2 day process, your garage can go from dirty and drab to professional and perfect.
Basement: It's common for homes to have unfinished basements, containing concrete floors and skeletons for walls. Make your basement multi functional with epoxy flooring. Hey, you could even make your basement a gym. (Or just have the kids ride their bikes down there during the winter months.)
Salon: Hairdressers around the country have started home businesses where they transform a small room in their home into a salon. Consider all of the sweeping that is required with this job. Hair and dust will easily get trapped in tile flooring, and hardwood will wear out quickly. The most viable option is epoxy. It's easy to clean, sweep, and maintain. It has been created to last, adding to the multiple functions of epoxy flooring for any room.
Warehouse: Small businesses often start out in the home and gradually move into a larger space. Epoxy flooring is a great option for warehouses and serve the same purpose as garage epoxy.
Bathroom: For the same reasons it's great for a salon, epoxy flooring will completely transform a bathroom. Stop worrying about mold and mildew growing along the floor. Epoxy is easy to clean and will take care
Porch: Placing epoxy flooring outside can completely transform your summer barbeque. You'll have neighbors planning parties at your place and may even find them hanging out back there when you're not home!
As you can see, you can install epoxy flooring for any room. The flooring will instantly transform your typical, hard-to-clean floor into something industrial and amazing. The multi-functional flooring is the way to go for countless home and business owners. What are you waiting for?