Snowboard Storage Rack
$87.99 / each
Item #: N/A
The only Snowboard Storage Rack to hang 6 snowboards in a 32" space. It holds all sizes of snowboards.
This garage snowboard rack can hold any type of bindings and any make of snowboard.
Snowboard Wall Rack Specs:
2 - Single Bar Brackets 1 - 35" Monkey Bar 3 - 10" Hooks 1 - Hardware Bag
FREE SHIPPING
*Lower 48 Only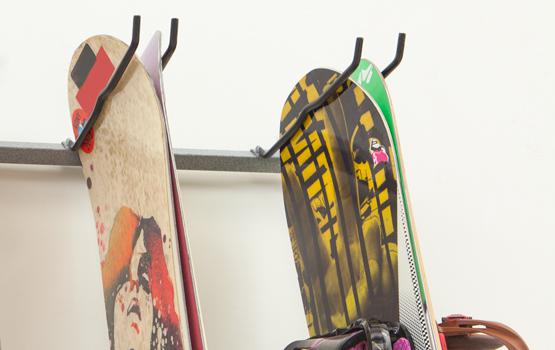 Our Snowboard Storage Rack allows you to get six snowboards up off of the ground and hung up neatly on the wall. This rack can easily be mounted on the wall in your garage, closet, shed or cabin in just 15 minutes. This snowboard storage rack can also accommodate snowboards of all sizes and different types of bindings.
Q: How many snowboards fit on one hook?
A: We recommend two snowboards for each hook. They are positioned back to back so that the bindings face away from each other.