Small Golf Bag Rack
$76.99 / each
Item #: N/A
With the Small Golf Bag Rack, you'll be able to neatly store up to three golf bags or carts.
The Small Golf Bag Rack includes:
2 - Single Bar Brackets 1 - 35" Monkey Bar 1 - J Hook 2 - 3" Single Hooks 1 - Hardware Bag FREE SHIPPING *Lower 48 Only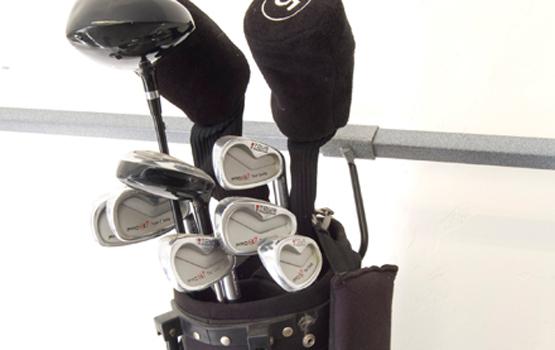 When you spend money on a nice set of golf clubs, don't let them sit in the back of your trunk or in the corner of your garage. Our Small Golf Bag Rack is the storage solution you've been looking for. This golf rack can hold two to three golf bags, is made out of powder-coated steel, and comes with a lifetime warranty. You won't find a better golf rack anywhere else, guaranteed.