Single Bike Storage Rack
$81.99 / each
Item #: N/A
Showcase and store your road or mountain bike horizontally.
Single Bike Storage Rack Specs: 2 - Shed Brackets 1 - 35" Monkey Bar 2 - 12" double hooks 2 - 3" hooks 1 - Hardware Bag FREE SHIPPING *Lower 48 Only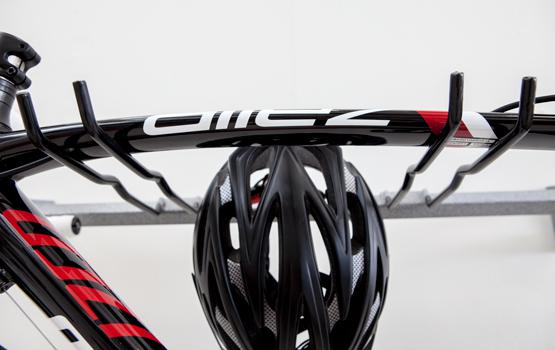 The Single Bike Storage Rack is a great way to showcase and protect your road or mountain bike. It horizontally stores your bike and gets it off the ground. The single bike storage rack also comes with additional hooks to hold a helmet, shoes, pump, or other cycling gear.
Q: What types of bikes can I store on this rack?
A: This rack is capable of storing all types of bikes.
Q: What is the weight capacity of this rack?
A: 200 pounds.