Shovel Rack
$76.99 / each
Item #: N/A
The Shovel Rack will efficiently store up to 20 shovels. Stores any shovel size and shape.
The Shovel Rack includes: 2 - Single Bar Brackets 1 - 35" Monkey Bar 1 - 12" Hook 2 - 5" Double Hooks 1 - Hardware Bag FREE SHIPPING *Lower 48 Only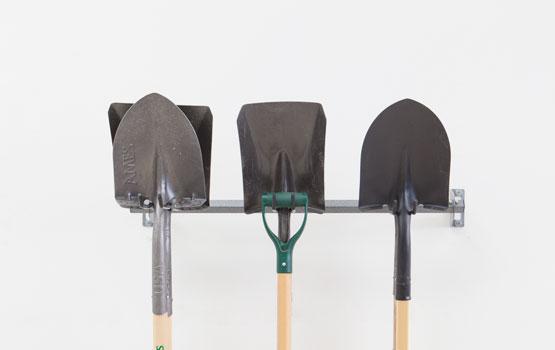 The Shovel Rack will help clean up the messy tool corner in your garage. You won't have to hunt for the right shovel each time you need a flat nose or trenching shovel. The shovel rack also works well for contractors in their shops, trailers, or on-site offices. The rack will also store snow shovels for when the the snow starts flying. Each rack is built to last with industrial grade components.