6 Cross Country Ski Rack
$98.99 / each
Item #: N/A
Our 6 Cross Country Ski Rack will allow you to conveniently store all of your family's skis in one place.
The 6 Cross Country Ski Rack includes: 2 - Single Bar Brackets 1 - 51" Monkey Bar 6 - 6" Narrow Hooks 6 Rubber Straps 4 - 2" Wood Screws 4 Washers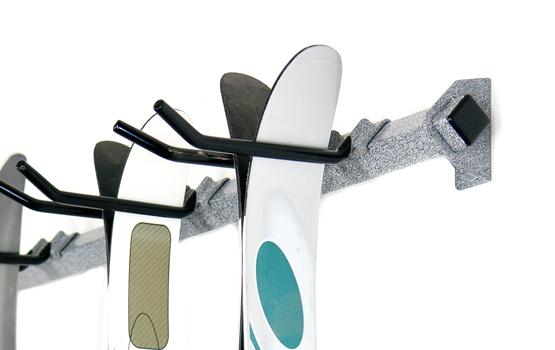 If you're looking for a cross country ski rack, stop your search. Our 6 Cross Country Ski Rack is designed to hold up to six pairs of cross country skis accessibly and securely.
This cross country ski rack can easily be installed and mounted on your wall in just 10 minutes, comes with a lifetime warranty, and is made out of powder coated steel for ultimate durability.
Q: What is different about this rack from the other 3 ski rack?
A: Cross country ski's bow outwards when stored on a hook like this. We provide a band to go around the bottom of the ski to hold them together.